Qaddafi aside, world leaders laud former president
EULOGIZING From Gorbachev to Thatcher to Imelda Marcos, leaders past and present said all the right things, though Muammar Qaddafi struck an off-key note
Former US President Ronald Reagan was remembered as a heroic leader who used his warmth and "unique capacity to communicate" to restore the US' greatness following the Vietnam War and bring about the collapse of the Soviet Union. \nReagan died Saturday after a 10-year battle with Alzheimer's disease. He was 93. \n"He will be missed not only by those who knew him and not only by the nation that he served so proudly and loved so deeply, but also by millions of men and women who live in freedom today because of the policies he pursued," said former British prime minister Margaret Thatcher, Reagan's ideological soulmate and close friend. \nThatcher called Reagan "a truly great American hero," while Britain's Queen Elizabeth II said she was "saddened by the news" of his death. \nBritish Prime Minister Tony Blair wrote to Reagan's wife, Nancy, and US President George W. Bush to express his condolences, the British premier's office said. \n"President Reagan will be remembered as a good friend of Britain," Blair's office said in a statement. \nIn Russia, Former Soviet leader Mikhail Gorbachev hailed Reagan as a great US president and said he was made distraught by news of his death. \n"I deem Ronald Reagan a great president, with whom the Soviet leadership was able to launch a very difficult but important dialogue," Gorbachev was quoted as saying. The news of Reagan's death on Saturday "upset me very much," he said. \n"Reagan was a statesman who, despite all disagreements that existed between our countries at the time, displayed foresight and determination to meet our proposals halfway and change our relations for the better, stop the nuclear race, start scrapping nuclear weapons and arrange normal relations between our countries," Gorbachev said. \n"I do not know how other statesmen would have acted at that moment, because the situation was too difficult. Reagan, whom many considered extremely rightist, dared to make these steps, and this is his most important deed," he was quoted as saying. \nImelda Marcos, the widow of former Philippine dictator Ferdinand Marcos, laid a wreath of orchids and white anthuriums at the tightly guarded gates of the US embassy in Manila, to honor the president who helped the couple leave the country after their 1986 ouster from power. \n"He was truly an outstanding human being and a loyal friend. We will miss him," she said. \nYasuhiro Nakasone, who served as Japan's prime minister from 1982 to 1987, hailed Reagan as an "indispensable friend of the Japanese people." \n"He was a great president who guided the Cold War toward a victory for freedom against communism. I attended five [Group of Seven] summits with him, and he would use his skillful humor and leadership to steer them to success." \nFormer Canadian prime minister Brian Mulroney, who with his wife joined Ronald and Nancy Reagan in crooning "When Irish Eyes are Smiling" at a summit in Quebec in the 1980s, called Reagan's death "a great loss for the US and the world. \n"He was an absolutely marvelous human being and a great and historic leader who will be remembered very favorably," Mulroney said. \nFrench President Jacques Chirac expressed sadness at Reagan's death. \n"He salutes the memory of a great man of state who, through the force of his convictions and his commitment in favor of democracy, will leave a profound mark on history," Chirac's office said. \nMeanwhile, Libyan leader Muammar Qaddafi expressed regret that Reagan died without ever standing trial for 1986 air strikes he ordered that killed the Libyan leader's adopted daughter and 36 other people. \nReagan ordered the April 15, 1986, air raid in response to a discotheque bombing in Berlin allegedly ordered by Qaddafi that killed two US soldiers and a Turkish woman and injured 229 people. \n"I express my deep regret because Reagan died before facing justice for his ugly crime that he committed in 1986 against the Libyan children," Libya's official JANA news agency quoted Qaddafi as saying. \nJANA described former British prime minister Margaret Thatcher as Reagan's partner in the strikes because some of the warplanes took off from US bases in the UK.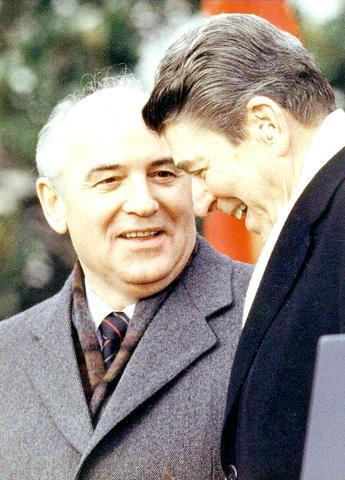 Former US president Ronald Reagan, right, welcomes former Soviet leader Mikhail Gorbachev, left, to the White House on the first day of a summit there in 1987.
PHOTO: AFP
Comments will be moderated. Keep comments relevant to the article. Remarks containing abusive and obscene language, personal attacks of any kind or promotion will be removed and the user banned. Final decision will be at the discretion of the Taipei Times.