Silence is the dress code for women
Muqtada al-Sadr, the rebel cleric, has just finished his Friday sermon and his militiamen are securing the area around his car. One notices a woman, swathed in robe and head scarf. Everything but her face and hands are covered. Yet she is told to go stand in a corner, because the guards have to be alert and her "presence here confuses us." \n"Is it because I'm a woman?" I ask. \n"Yes. Please stand there." \n"Why do you treat women as though we are the devil?" \n"No, on the contrary, we respect them." \nAnother day, another skirmish. For a woman reporter, doing one's job in Iraq's holiest city is a constant battle of the sexes. \nNO EXPOSURE \nEach day begins with important dress decisions, depending on where one is going. Najaf, a city of several hundred thousand, is the home of the shrine of Ali, Shiite Islam's most beloved saint, and to visit it, or call on any of al-Sadr's lieutenants who congregate in the neighborhood, maximum coverage is advisable -- an ankle-length cloak called an abaya, plus head scarf and socks. Nothing must show but eyes, nose, mouth and hands -- never wrists. \nA single strand of exposed hair will provoke shouting in the street. \nI was first plunged into Najaf life a year ago, after the fall of former Iraqi president Saddam Hussein's regime freed pilgrims to converge in the hundreds of thousands on Ali's shrine. It was a nightmarish experience in 38oC heat. To juggle a notebook, pen, handbag and cell phone, while constantly having my robes knocked askew by the jostling human lava pouring down the street, was impossible. Yet each tiny slip -- an errant strand of hair, a hem lifted to avoid the mud -- provoked shrieks from disapproving males. \n"Haram!" -- it's a sin -- they yelled. \nNajaf people could be forgiven for erupting as they did after dec-ades of enforced secularism and oppression of Shiites. It seemed then that everyone was free to make up the rules as they went along -- and the tougher, the better. \nThirteen months later, things have eased somewhat. To visit a tribal leader, or a professor or businessman, the dress code is less stringent. But still, the pressure never lets up in Najaf, and it is applied to all women -- Western and Arab, Muslim and non-Muslim, journalist or not. \nPerhaps worse than the asphyxiating dress code is to not be acknowledged as a professional, a reporter, a human being. \nCOLD SHOULDER \nBecause it is considered inappropriate for a woman to be out on her own and daring to ask questions, the man you're talking to -- bureaucrat, cleric, armed militiaman -- won't talk back to you. He'll look away when you talk to him, and will talk back to the floor, the wall or any man who happens to be with you -- usually your driver. \nThe woman is supposed to be chaperoned by a mahram, a close male relative, but the driver will do if no one else is available. \nDriving around presents its own challenge. It is considered shameful for a man to be seen in the back seat of the car with a woman in front next to the driver. A male Iraqi colleague from Najaf pleaded with me to let him sit in the front as we left a meeting with tribal chiefs who came to the door to say goodbye. \n"They will say he is not a man to let a woman sit in the front," he said. I stayed put and told him it's time the men got used to it. \nmaking men sin \nThese constant clashes over stray hairs are exhausting, but can lead to interesting verbal exchanges. Last year a guard at the Ali shrine told me to cover my hair. I told him to mind his own business. He said it was his duty to "guide" me. But hadn't he sinned simply by looking? No, he explained; I was the sinner, for making him sin. \nOnce a mullah walking toward me lifted his robe to avoid the mud, so I did the same. Wagging his finger, he yelled: "It's wrong to pull up your abaya!" \nSo why was it OK for him? \n"I am a man of religion, that's different." he replied. \nAt one point, as I stood outside a mosque, a woman walked up and tried to rearrange my scarf for me. By then I was so frustrated that I lost my temper and tried to pull off her scarf. \nShe was stunned and appeared apologetic. She pointed to a man standing nearby and said he had told her to do it.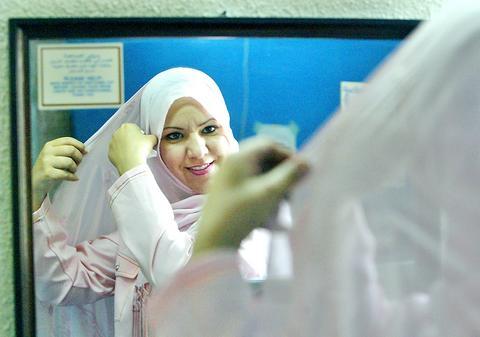 Iraqi journalist Bushra Juhi adjusts her head scarf before going to work in Baghdad on Monday. For a woman reporter in Iraq, a hair out of place can cause an uproar.
PHOTO: AP
Comments will be moderated. Keep comments relevant to the article. Remarks containing abusive and obscene language, personal attacks of any kind or promotion will be removed and the user banned. Final decision will be at the discretion of the Taipei Times.