UK haggles with US over extra troops
COUNTERPRODUCTIVE British military leaders are reluctant to let their new troops serve under US command in the wake of embarrassing misconduct
The British government is still haggling with the US over the terms by which at least 3,000 British troops will soon be deployed in Iraqi troublespots without being tainted by what a leaked British memo calls "heavy-handed" American military tactics.
Senior officials stress there is no doubt further British troops will be sent to Iraq before sovereignty is handed over to an interim Iraqi government in Baghdad on June 30. It is a deadline that US President George W. Bush was scheduled to confirm in a speech yesterday.
But British military chiefs have urged Prime Minister Tony Blair to send extra forces only on British terms, not those of the US, whose tactics they privately damn as brutal and counterproductive.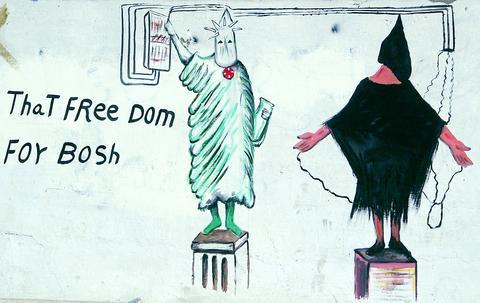 A mural by an Iraqi artist in Sadr City, Iraq, Baghdad's largest Shiite neighborhood, depicts the US Statue of Liberty, left, flipping an electrical switch on wires attached to a detainee of Iraq's Abu Ghraib prison, on Sunday.
PHOTO: AP
Privately ministers agree, though an internal Foreign Office paper leaked on Sunday suggested Britain is making progress towards "a more sensible and sensitive US approach to military operations," at least at senior level.
In the current climate, after the clumsy US mishandling of the standoff at Fallujah and the mistreatment of detainees at Abu Ghraib jail -- which the Foreign Office memo admits "sapped the moral authority of the coalition" -- there is no question of British troops serving under direct US command.
Filling gaps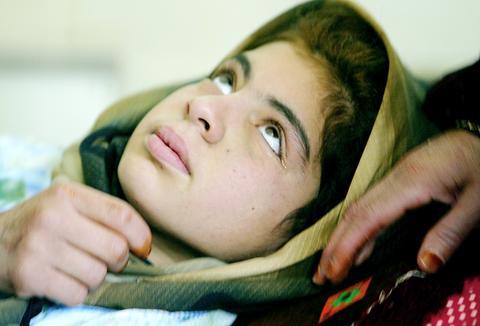 Iraqi girl Moza Rikad, 14, lies injured in a bed in a hospital in Ramadi, 110km west of Baghdad, on Sunday. Moza was injured by shrapnel to her leg during a wedding party that was attacked by US helicopters near the Syrian border last Wednesday. Rikad lost her mother and two of her brothers and sisters.
PHOTO: AP
The British-controlled south-east zone is set to stretch into south-central Iraq to fill the gaps left by the withdrawal of Spanish and other forces. Plans include key hotspots such as the holy city of Najaf, the scene of fierce fighting between US troops and the Shia militia led by the cleric Moqtada al-Sadr.
The favoured plan is to send a force of up to 1,500 Royal Marines, backed by a brigade headquarters and armored infantry provided by the Black Watch Regiment. The battle group would total 3,000 troops under Brigadier John Rose.
"How to sell it is a political decision," said a senior military source. "Blair has to work out how to play it at home and with the allies."
But the exact terms have not been agreed with the US. That, say ministers, is the cause of the delay, not domestic politics or the June 10 local and European elections. No decision is now likely this week.
"We will do it our way," a senior military source said.
The UK chiefs of staff have made it plain extra British troops should be deployed only if the government agrees with the US on a plan leading to the withdrawal of foreign troops.
Comments will be moderated. Keep comments relevant to the article. Remarks containing abusive and obscene language, personal attacks of any kind or promotion will be removed and the user banned. Final decision will be at the discretion of the Taipei Times.