`Unholy alliance' reigns in Haiti
REBEL GOVERNMENT Haiti's new prime minister has riled human-rights groups by tolerating the influence of gangsters and prison escapees within his government
Haiti's new leader is in an "unholy alliance" with rebels including convicted assassins, one human-rights group said, while another warned that peacekeepers weren't doing enough to control rebels. \nSeveral human-rights groups questioned interim Prime Minister Gerard Latortue's actions at a weekend rally where he celebrated the gangsters who began Haiti's uprising as "freedom fighters." \nMeanwhile, ousted president Jean-Bertrand Aristide's Lavalas Family party, in disarray since many officials fled or are in hiding, appeared to be regrouping and warned on Monday that there could be no peace without the participation of Haiti's largest political movement. \nA statement from Senator Yvon Feuille charged Lavalas members were being hounded across the country and even being killed. \n"Everywhere Lavalas is a victim. Besides those physical massacres, we see there is a political massacre being prepared behind Lavalas' back," he said. "Without Lavalas, there is no solution. Without Lavalas, there won't be the peace we need so much." \nHe denounced what he said was a "white American and French colonists' plan" to marginalize the movement that helped bring Haiti's first democratic elections in 1990, which Aristide won in a landslide. \nAristide left on Feb. 29, claiming he was forced from power by the US as rebels threatened to attack Port-au-Prince. Some 3,300 troops from the US, France, Chile and Canada are stationed in Haiti as peacekeepers. \nUnder a US-sponsored plan, Latortue last week formed a transitional government that he said was neutral but includes no Lavalas member and is loaded with Cabinet members critical of Aristide. \nAristide is staying temporarily in Jamaica, but Nigeria announced Monday it had agreed to a request by Caribbean leaders to grant him temporary asylum. A Nigerian government statement did not say whether Aristide had requested -- or even agreed to -- asylum in the country. \nLatortue, the US and others have criticized Jamaica for accepting Aristide, saying his presence near Haiti would raise tensions. \nNew York-based Human Rights Watch warned on Monday that fighters in the rebel-held north were illegally detaining former Aristide officials and journalists who supported him. \nIt urged French troops to quickly fill a "security vacuum" in northern Haiti. \n"The multinational forces need to extend their reach," said Joanne Mariner, Human Rights Watch director, said on her return from the north. "Right now there really is no rule of law in much of northern Haiti." \nHer group said there were now fewer than 50 police for the northern region, which used to have a few hundred, and that rebels in Cap-Haitien had 16 prisoners in custody on Saturday. \nThe New York-based National Coalition for Haitian Rights, meanwhile, accused Latortue of "fanning the flames of lawlessness" when he shared a platform with rebel leaders at a rally in his hometown of Gonaives on Saturday. \nThe coalition's director, Jocelyn McCalla, criticized Latortue for standing shoulder-to-shoulder with "thugs," including rebel commander Jean Pierre Baptiste, also known as Jean Tatoune, who escaped from jail after being sentenced to two life sentences for involvement in the 1994 massacre of some 15 Aristide supporters. \n"Tatoune should have been in jail instead," McCalla said. \n"We strongly condemn the unholy alliance which the interim government has struck with the Gonaives rebels," he said, noting one rebel leader "threatened to overthrow the interim government should they decide that things were not to their liking." \nAmnesty International's Americas director Eric Olson said: "It sends a very bad signal for the prime minister." \n"The future of Haiti depends on a strong justice system, and sweeping these things under the carpet weakens that future," he said.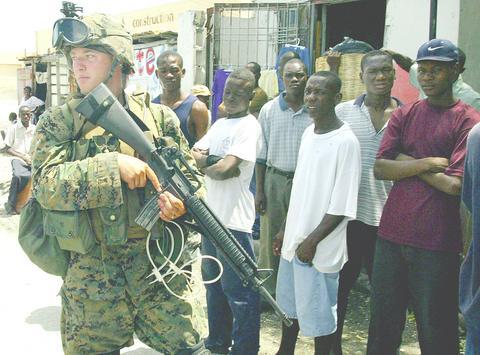 A US Marine walks past residents while on patrol on the outskirts of the Cite Soleil district in Port-au-Prince on Monday.
PHOTO: AP
Comments will be moderated. Keep comments relevant to the article. Remarks containing abusive and obscene language, personal attacks of any kind or promotion will be removed and the user banned. Final decision will be at the discretion of the Taipei Times.