Haitian `victory march' attacked
AFTERSHOCK At least five people died when unknown gunmen sprayed gunfire into a crowd of thousands of revelers on Sunday
US Marines are investigating the attack on thousands of people celebrating the flight of ousted President Jean-Bertrand Aristide that killed at least five people, including a foreign journalist, and led Marines to return fire on the gunmen. \nA few doctors with not enough medication or staff struggled yesterday to treat dozens of injured from the protest the day before, despite the dramatic arrival of a French Air Force helicopter that landed on a major road to deliver emergency supplies to Port-au-Prince's main private hospital. \nIt was the first armed action by US forces sent a week ago to stabilize Haiti, and the worst attack since Aristide fled on Feb. 29. \nAristide, in a telephone conversation aired yesterday on French radio, called on his countrymen to peacefully resist the "unacceptable occupation" of Haiti and said he remains the nation's president. \n"The Haitian people resist and must continue to finalize a peaceful resistance to face down this unacceptable occupation that follows this political kidnapping, which is also unacceptable," said Aristide, who resigned and fled to the Central Africa Republic under pressure from rebels who overran the country in a month-long insurgency, as well as from the US and France. \nRTL radio, which aired the comments, said that Aristide was speaking not in an interview but in a telephone conversation with a friend. He agreed to allow the conversation to be aired, according to RTL. The radio station didn't say when the conversation took place. \nSunday's protest was a test of Haiti's shaky democracy in the aftershock of Aristide's flight and of newly arrived US and French peacekeepers. \nIn what protesters called a "victory march," scores people marched in Port-au-Prince's Petionville suburb, with Haitian police in the lead and a convoy of US Marines in five Humvees mounted with machine guns and a tear gas launcher along with two truckloads of French legionnaires in the tail. \n"Try Aristide! Jail Aristide!" protesters yelled, demanding he stand trial for alleged corruption and killings committed by his militant supporters. \nAs the number of protesters swelled to thousands, the peacekeepers got hemmed in. \nAristide supporters said they canceled a march planned for Sunday because peacekeepers had not promised the same level of security they gave their opponents. A pro-Aristide rally was instead planned for yesterday. \nGunfire erupted when marchers converged on the central Champs de Mars plaza. Many witnesses said they saw Aristide militants start the shooting. \nUS Major Richard Crusan said three Marines fired in the direction of the attack. \n"We are unaware that any action was taken to other reports of shooting. We are still reviewing that information," he said. \nAmong five people killed were Spanish television correspondent Ricardo Ortega. Dozens were injured, including a US photographer, Michael Laughlin, 37. \nMany of Sunday's victims were shot with high-velocity bullets from weapons like M-16s and M-14s, orthopedic surgeon Ronald Georges said. \nWailing victims flooded the Canape Vert hospital where he works, and blood covered the floors of the two operating rooms. \nWhen the French helicopter landed, in a traffic jam on a major road, the two men delivering emergency supplies were stopped at the hospital's locked gates. \nTwo weeks ago, when the hospital was treating opposition protesters attacked by Aristide militants after another demonstration, Aristide loyalists had stormed the hospital, outraging human rights activists. \nLate Sunday afternoon, the deputy chief of mission of the US Embassy, Luis Moreno, rushed there with several armed US troops. \nThey barged in, with their guns, and Moreno told reporters they were there to help a US citizen in life-threatening condition -- presumably the photographer whose condition had stabilized. \nOfficials of the Geneva-based International Committee of the Red Cross, which intercedes in areas of conflict, were outraged. "International law stipulates that weapons are not allowed in hospitals," ICRC delegate Jean-Jacques Fresard said. \nVictims of the violence at the protest complained that peacekeepers did nothing. \n"The peacekeepers were nowhere near where the shooting was," said Almil Costel, 31, who was shot twice in the left shoulder. \nFrench commander Colonel Daniel Leplatois defended the peacekeepers. \n"We're not able to secure the lives of all of the demonstrators," he said. \nAfter the shooting, a truck with speakers paraded around the National Palace, blasting music. \nOne man shouted over its loudspeaker at the Marines: "People are dying every day in this country. You have to do something about it."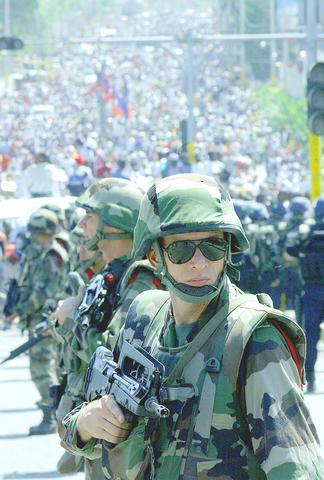 French soldiers escort thousands of opponents of former Haitian president Jean-Bertrand Aristide in Port-au-Prince, Haiti, on Sunday.
PHOTO: EPA
Comments will be moderated. Keep comments relevant to the article. Remarks containing abusive and obscene language, personal attacks of any kind or promotion will be removed and the user banned. Final decision will be at the discretion of the Taipei Times.