Democrats look to put the brakes on surging Kerry
SOUTH AND NORTH John Edwards and Wesley Clark looked to Tennessee and Virginia while Howard Dean bet heavily on Wisconsin
US President George W. Bush and Democratic front-runner Senator John Kerry sparred over the president's economic leadership, while Kerry's rivals sought to slow his brisk pace toward the Democratic nomination in three states with upcoming primaries. \nSenator John Edwards of North Carolina and former NATO commander Wesley Clark searched for wins in two Southern states and Howard Dean urged Wisconsin voters "to keep this debate alive." \nBut Dean, the former Vermont governor, said that, despite earlier statements that he viewed the Feb. 17 primary as a do-or-die contest, he would stay in the race regardless of the outcome. "I've just changed my mind," he said. \nAs Edwards and Clark concentrated on Virginia and Tennessee, which were to hold primaries yesterday, Kerry ignored his rivals and criticized Bush's stewardship of the economy. \nKerry accused Bush of having the worst jobs record of the past 11 presidents. Bush defended his economic priorities, especially his tax cuts, in a campaign-style speech in Missouri, expected to be a key battleground in November. The president denounced efforts by "some in Washington" against making his tax cuts permanent. "When you hear people say, `We're not going to make this permanent,' that means tax increase," Bush said at a factory in Springfield, Missouri. \n"They're going to raise the taxes and increase the size of the federal government, which would be bad for the United States economy," Bush said, his voice rising to a shout. \nSpeaking six days after Kerry won the Missouri primary, Bush appeared more engaged in his own re-election campaign than in past public appearances, directly responding to criticism by Kerry and other Democratic candidates. \nThe Democrats running for president say they would repeal all or portions of Bush's tax cuts. Stephanie Cutter, a spokeswoman for Kerry, said the Massachusetts senator would make permanent tax cuts for the middle class, including the child tax credit and the repeal of the marriage penalty. \nBefore an audience in Roanoke, Virginia, Kerry scorned a White House economic report released earlier in the day that predicted the economy would grow by 4 percent and create 2.6 million new jobs this year. \n"I've got a feeling this report was prepared by the same people who brought us the intelligence on Iraq," Kerry said, citing job losses of more than 2 million since Bush took office. Kerry also faulted Bush for policy failures on North Korea, AIDS, global warming and the Middle East peace process. \nEdwards and Clark hoped strong showings in Tennessee and Virginia would eliminate the other and turn the race into a two-man contest with Kerry, but polls showed Kerry well ahead in both states. \nDean, the one-time Democratic front-runner, urged Wisconsin voters to prove the polls and the media wrong and use their "power to choose the strongest candidate to beat George W. Bush." \n"The media claims this contest is over. They say your voice and your vote don't count. They expect you to rubber stamp the choice of others. But you don't have to listen to them," Dean told about 300 people at a downtown Madison hotel. \nDean began a two-day tour and an aggressive advertising campaign in Wisconsin, a state he told supporters last week he must win to keep his candidacy alive. \nBut on Monday, he said his backers had persuaded him to stay in the race regardless of the results. He dismissed his own "obvious contradiction." \nKerry's winning streak -- he handily won contests over the weekend in Michigan, Washington state and Maine -- was clearly taking a toll on his competitors. Aides to both Clark and Edwards said they expect their candidates to lose Virginia and Tennessee, even though both had earlier been optimistic about winning in their home region. A total of 151 pledged delegates are at stake in the two states. \nEdwards and Clark have one win apiece, while Kerry has won 10 of the 12 contests. Kerry has more than twice as many delegates as Dean, his closest pursuer.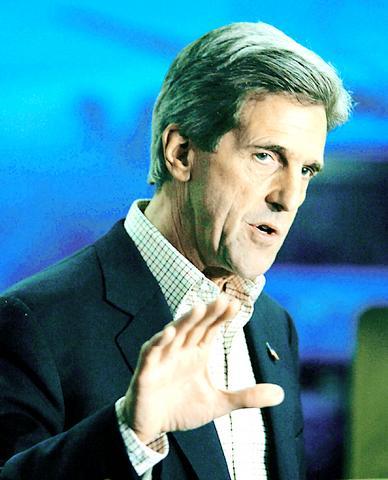 US Democratic presidential candidate Senator John Kerry speaks to reporters at the airport in Memphis, Tennessee, on Monday. Kerry was in Memphis for a campaign rally prior to the state's primary election yesterday.
PHOTO: REUTERS
Comments will be moderated. Keep comments relevant to the article. Remarks containing abusive and obscene language, personal attacks of any kind or promotion will be removed and the user banned. Final decision will be at the discretion of the Taipei Times.