Rebel rampage claims 42 lives in Haiti as coalition opposition parties meet
FOMENT With no army and few police, President Aristide's government is not well equipped to halt violence aimed at an ouster
At least 42 people were killed as rebels in nearly a dozen towns rampaged, prompting fears of a plot to oust embattled President Jean-Bertrand Aristide. \nAfter sporadic gunbattles on Monday, police regained control of the important port city of St. Marc, 72km west of Port-au-Prince. At least two men were shot and another was allegedly shot and killed by Aristide supporters. His body was left on a roadside. \n"The national police force alone cannot re-establish order," Prime Minister Yvon Neptune told reporters in St. Marc on the first visit to any of the affected towns by a senior government official. \n"The violence is tied to a coup d'etat," he said the day before. \nIn Port-au-Prince, the capital, a coalition of opposition political parties met to discuss whether they should join the rebels. By late Monday, they had distanced themselves from the uprising. \n"We do not recognize ourselves in the armed insurrection but in the peaceful struggle of the people for democracy," said Mischa Gaillard, an opposition politician who met with the Democratic Platform Monday. "We deplore violence." \nThe uprising began on Thursday in Haiti's fourth-largest city of Gonaives and signals a dangerous turning point in Haiti's three-year political crisis. A similar revolt in 1985 also began in Gonaives and led to the ouster of the 29-year Duvalier family dictatorship. \n"We are in a situation of armed popular insurrection," said opposition politician Himler Rebu, who led a failed coup against Lieutenant-General Prosper Avril in 1989. \nTension has mounted since Aristide's party won flawed legislative elections in 2000 and international donors blocked millions of dollars in aid. \nMisery has also deepened with most of the nation's 8 million people living without jobs and on less than US$1 day despite election promises from Aristide, a former priest who had vowed to bring dignity to the poor. \nWith no army and fewer than 5,000 poorly armed police, the government is ill-equipped to halt the revolt. \nPolice stations have been a major target because they symbolize Aristide's authority and officers are accused of siding with government supporters. \nSince capturing Gonaives, a city of 200,000 people, the rebels have spread to towns to the west and north, including the Artibonite valley that is the breadbasket of Haiti. \nSome residents fled western Grand-Goave with belongings perched on their heads on Monday, the day after rebels torched the police station. Insurgents also set ablaze stations in the northern towns of St. Raphael and Dondon, where police launched counterattacks and wounded two rebels, according to Radio Vision 2000. \nIt reported that police in Dondon repulsed the rebels, and that afterward government supporters torched houses of nine anti-Aristide leaders. On the highway near Grand-Goave, police fired into the air to disperse a large crowd of clashing protesters who were for and against the government. One man, identified as an Aristide partisan, was shot and killed but it was not clear by whom. \nUN Secretary-General Kofi Annan said the UN "will be stepping up our own involvement fairly soon" but did not elaborate.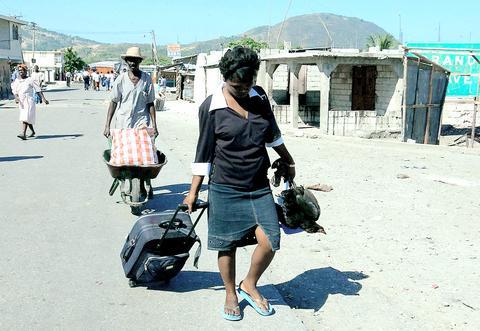 People make their way toward the bridge at the blocked entrance of Grand Goave, 50km southwest of Port-au-Prince, Haiti, on Monday, a day after rebels evicted the police and torched the station.
PHOTO: AP
Comments will be moderated. Keep comments relevant to the article. Remarks containing abusive and obscene language, personal attacks of any kind or promotion will be removed and the user banned. Final decision will be at the discretion of the Taipei Times.