US tells Pakistan to demolish smuggling ring
DISGRACED SCIENTIST US Secretary of State Colin Powell says Washington wants to make sure nothing is left of the nuclear-secrets network run by Adbul Qadeer Khan
US Secretary of State Colin Powell said on Monday he had told Pakistan's President Pervez Musharraf he must pull up the nuclear smuggling ring led by its disgraced nuclear hero "by its roots."
Powell spoke publicly for the first time since a telephone call with Musharraf late Friday about the scandal over nuclear scientist Abdul Qadeer Khan, who admitted leaking nuclear secrets to Iran, Libya and North Korea.
"The Pakistani government has done quite a bit now to roll up the network," Powell told reporters.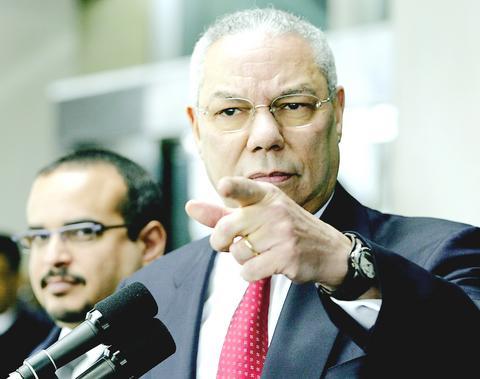 US Secretary of State Colin Powell answers questions from the media outside the US State Department on Monday.
PHOTO: AFP
"I said to President Musharraf that we wanted to learn as much as we could about what Mr. Khan and the network was up to, and it has to be pulled up by its roots and examined to make sure that we have left nothing behind," Powell said.
"He assured me that that was his objective as well, and that he would share with us all of the information that they came up with," Powell said.
Powell said he also spoke to Musharraf about the pardon granted to Khan.
Pakistan said Sunday that Musharraf had assured Powell that no such proliferation activity will happen again in the country.
The country's nuclear program is now "under firm control" of the National Command and Control Authority which has taken steps to prevent proliferation in future, Musharraf told Powell, aides said.
Powell discounted reports from Pakistan that he was about to visit the country to discuss the scandal.
"I have no plans to travel to Pakistan," he said, adding he read "with interest" reports quoting a government official in Pakistan as saying he planned to visit the country in "the near future."
"But neither in that conversation or in any other conversations have I indicated that a trip was imminent."
The US, which for months said it believes there has been no proliferation since Musharraf took power in a coup in 1999, takes his undertakings that no such leaks are now taking place seriously.
There has been speculation that covert US teams may already be in Pakistan, securing its nuclear facilities, or carrying out inspections to prevent further proliferation.
But Washington has been careful to not put heavy public pressure on Musharraf, concerned that he could be weakened politically if his hardline domestic political opponents see him as bowing to US pressure.
Musharraf defended his handling of the scandal and his pardon for Khan in an interview with NBC on Sunday.
"The dilemma is: he's a great man, he's a hero, and he's a hero of every individual in the street ... Yet he has done something which could bring harm to the nation. Now how do I deal with it? We had to handle it very carefully," Musharraf said.
Comments will be moderated. Keep comments relevant to the article. Remarks containing abusive and obscene language, personal attacks of any kind or promotion will be removed and the user banned. Final decision will be at the discretion of the Taipei Times.