Lawmakers approve Iraq mission
Japanese lawmakers early yesterday approved sending troops for a humanitarian mission in southern Iraq, a decision stalled until the last minute by concerns over the level of violence there.
Opposition lawmakers were absent from the voting as ruling lawmakers stood to show their approval in an unanimous decision just after midnight on Friday in the 480-seat lower house. The three major opposition parties had boycotted in protest to the ruling coalition's move to cut short debate and force a vote.
The approval saved Koizumi the embarrassment of having to cancel a mission already under way.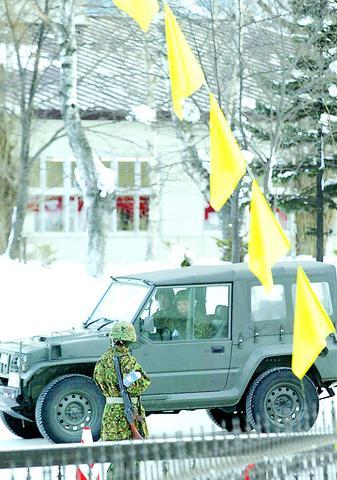 A soldier guards the entrance of a camp in Asahikawa, on the northern Japanese island of Hokkaido, yesterday.
PHOTO: AFP
Advance teams have already been sent to Kuwait and Iraq, and Koizumi has ordered in sea, land and air forces -- part of his administration's goal of raising Japan's profile on the world stage by contributing peacekeepers.
A ceremony today will mark a final farewell for soldiers who will form the main contingent of the 1,000-strong noncombat mission in Iraq, the first Japanese troops in a combat zone since World War II.
The ballot early yesterday was the opposition's last chance to freeze deployment and force Tokyo to call its forces home.
While that outcome had been considered unlikely because Koizumi's coalition majority controls the powerful lower chamber, ramming the contentious measure through could hurt the prime minister's popularity.
Major newspaper editorials yesterday morning strongly criticized the ruling coalition's strong-arm tactics.
"Such behavior that gives a forced breakthrough the appearance of an unanimous vote disregards the essence of democracy," said the Mainichi newspaper.
Polls show a Japanese public deeply divided about the mission because of worries that troops might be drawn into combat if they are attacked. Critics say the deployment violates Japan's pacifist constitution, which prohibits the use of force to solve international disputes.
The deployment has followed a rocky road. Tokyo had hoped to send troops to Iraq by the end of last year, but the Japanese defense chief postponed the deployment after a Nov. 12 bombing outside an Italian base in Iraq killed 32 people.
The government then sent a team to assess security -- but Japanese media said that mission was hurriedly put together to coincide with a visit to Japan by US Secretary of Defense Donald Rumsfeld.
Troops finally began arriving in Kuwait and Iraq earlier this month, and the soldiers are preparing a small base at Samawah, in southern Iraq.
Last Sunday, a trailer carrying a prefabricated housing unit bound for the Samawah base was attacked in western Baghdad and a Jordanian driver killed. No Japanese personnel were in the area at the time.
There were hints of further delays to come on Friday, as three C-130 military planes touched down in Kuwait carrying 40 Japanese air force personnel and supplies. They had been scheduled to move on to Iraq in March, but Capt. Kazutoshi Ohmura said Friday that date "may be delayed."
He gave no alternative target date, but said the forces would undergo extended training.
"We need to conduct exercises in Kuwait, learn from US Army forces on the ground and conduct flight exercises and maintenance exercises," Ohmura said.
Comments will be moderated. Keep comments relevant to the article. Remarks containing abusive and obscene language, personal attacks of any kind or promotion will be removed and the user banned. Final decision will be at the discretion of the Taipei Times.