US getting desperate for UN help in Iraq
CHANGE OF HEART Having marginalized the United Nations before the Iraq war, the Bush administration is now appealing to the body to help arrange elections
The US administration has alternately fought with, derided and sidelined the UN for more than a year as it pursued the war in Iraq, then reserved postwar authority mostly for itself.
But now American officials are asking the UN for assistance in getting out of a dangerous political stalemate in the still embattled country.
The plea for help may be a sign "of genuine concern on the part of the United States that things aren't going well," said Christopher Preble, a foreign affairs analyst at the libertarian CATO Institute in Washington. "Before ... I think that UN involvement was seen by ... the Bush administration as being more trouble that it was worth."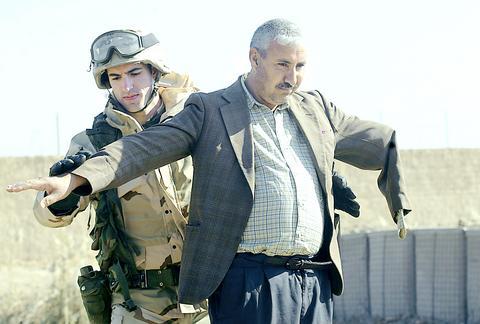 An Iraqi is searched by a US soldier at Checkpoint Four near Baghdad international airport on Wednesday before entering the US base to present a claim for compensation from the US army.
PHOTO: AFP
Others are more blunt.
"It's a comeuppance," said Joseph Montville, a US diplomat to Baghdad in the 1960s who now heads a diplomacy program at the Center for Strategic and International Studies.
The US has asked the UN to settle a US-Iraqi dispute over how to select leaders to rule the country after US occupation authorities hand over sovereignty on June 30. Some 100,000 troops will still remain after that.
The US signed a November agreement with its hand-picked interim Iraqi governing council that says regional caucuses will select a provisional legislature, which in turn would chose the new government to take power July 1 and formally end occupation. But top Iraqi cleric, Grand Ayatollah Ali al-Husseini al-Sistani, has demanded direct elections that US officials say would be impossible to organize in time.
Al-Sistani, leader of the country's majority Shiite Muslims, has said he won't budge on the demand unless the UN comes and confirms that is so -- or, in other words lends legitimacy to the US claim.
The US had allowed the UN to carry out only a mostly humanitarian role until October. At that point, American officials agreed that once power was transferred to Iraqis, the international organization could play a key role in helping organize elections.
UN Secretary-General Kofi Annan had been pressing for months for clarification of exactly what the role would be. He set a Jan. 19 meeting on the subject.
But then the al-Sistani problem came to a head and the meeting turned into something else. The top US official in Iraq, Paul Bremer, attended to ask Annan to help as soon as possible with the impasse threatening the transition in Iraq.
Annan is expected to announce soon that he will agree to send a delegation to Iraq to look into the question of whether it is possible to hold direct elections.
Not everyone agrees with the Bush administration decision to call the UN into Iraq now -- or agrees that the world body is that good at what it does.
"I view it with some concern because the UN's role in this issue has been not at all constructive up until now," said Joshua Muravchik, a scholar in foreign and defense studies at the conservative American Enterprise Institute.
He is among those still critical of the UN Security Council's failure to vote for the war last year and of Annan's criticism of US unilateralism since then.
Critics also fume that the UN pulled humanitarian workers out of Baghdad after a deadly bombing at its headquarters last year, signaling weakness to the insurgents.
Vice President Dick Cheney said on National Public Radio on Thursday that he didn't have "a fundamental objection to the UN per se" but thought its role must "be focused" on elections, transition and establishing constitutional processes.
The main US fear in the current political dispute is that an election likely would be won by Shiite Muslims, long persecuted by Saddam Hussein's regime. That could lead to a civil war if it is met by revolt among Iraq's Sunni Muslims, who brutally suppressed the Shiites under Saddam, and among Kurds, who have enjoyed near autonomy under protection of US and British warplanes that enforced a no-fly zone over Iraq.
Another nightmare scenario, analysts say, is that the Shiite majority might insist on Islamic law, doing away with freedoms Iraqis had during Saddam's brutal, but secular, rule.
The UN has experience in working with transitional governments, setting up elections, and other areas that fit the bill in Iraq.
"The administration is implicitly admitting it made a mistake in not getting the UN involved politically in Iraq earlier on," said James Lindsay a foreign policy and defense expert at the Council on Foreign Relations.
Comments will be moderated. Keep comments relevant to the article. Remarks containing abusive and obscene language, personal attacks of any kind or promotion will be removed and the user banned. Final decision will be at the discretion of the Taipei Times.