Child sexual abuse scandal enrages Portugal
DECADES OF ABUSE The Portuguese public is reeling after ten prominent media and political figures were charged with sexually abusing children in state care
Portugal's prime minister on Tuesday expressed confidence in the nation's justice system, one day after 10 people, including top political and TV figures, were charged with sexually abusing minors from a state-run home.
"I reaffirm my full confidence in Portuguese justice," Prime Minister Jose Manuel Durao Barroso said.
"I expect the guilty will be punished and the innocent will be absolved," he said.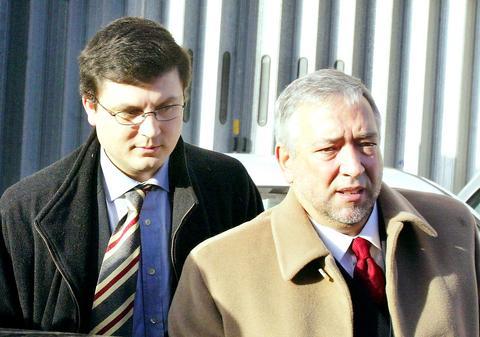 Paulo Pedroso, left, lawmaker and spokesman for the main opposition Socialist Party, arrives with his lawyer, Celso Cruzeiro, at a police station in Lisbon, Portugal, on Friday last week for questioning.
PHOTO: AP
"The Portuguese just want justice to be done. I join them in this wish," he added, in his first public comments since charges were laid.
Public prosecutors said the 10 were charged with seven crimes, including rape, child sexual abuse and the procurement of minors for sex acts. No date for the trial has been set.
Among those charged are popular TV presenter Carlos Cruz, whose career spans more than three decades; comedian Herman Jose, whose Sunday night talk show tops weekly ratings; and the former Portuguese ambassador to South Africa, Jorge Ritto.
Parliamentary deputy Paulo Pedroso, a former employment minister in the previous Socialist government and the spokesman for the Socialist Party until his name became linked with the scandal earlier this year, was also charged.
The lawmaker said on Monday that he would take steps to have his parliamentary immunity lifted so he could be tried and clear his name.
Pedroso, who had been tipped as a possible party leader, was charged with 23 counts of sexual abuse of minors.
The charges followed a police investigation which began in November, 2002, after the weekly newspaper Expresso reported that a driver at Casa Pia, a Lisbon-based network of homes for troubled children, had sexually molested minors in his care for over three decades.
The driver, 46-year-old Carlos Silvino, went on trial in October on 35 charges related to the sexual abuse of four minors, including a deaf-mute.
Police meanwhile continued to investigate allegations that Silvino had helped wealthy child molesters meet youngsters, mostly boys, in his care since 1975.
That investigation led Silvino to be slapped with more than 1,100 fresh charges on Monday, including 664 charges of child sexual abuse and 33 charges of procurement of minors for sex acts.
The others charged on Monday included a former director of Casa Pia, Manuel Abrantes; a doctor who reportedly carried out medical tests on the children before they were sexually abused, Joao Ferreira Diniz; a noted archeologist, Francisco Alves, and a 61-year-old woman, Gertrudes Nunes, who owns a home in southern Portugal where some of the sexual abuse was said to have occurred.
The child molestation case has dominated headlines in Portugal since it first broke, and has shaken confidence in public figures.
The upcoming trial of the accused is being billed as the first major test of Portugal's notoriously slow legal system since the country returned to democracy in 1974 after nearly five decades of repressive right-wing dictatorship.
Comments will be moderated. Keep comments relevant to the article. Remarks containing abusive and obscene language, personal attacks of any kind or promotion will be removed and the user banned. Final decision will be at the discretion of the Taipei Times.