Iraqi Christians not in festive mood
The Santa Claus in the window of Najeeba John's store is a sad metaphor for the first Iraqi Christmas since the fall of Saddam Hussein. \nThe toy Santa is supposed to sing and dance but he just stands there without moving. \n"Unfortunately, we don't have any electricity," says John. \nIraqi Christians say they won't be dancing either for Christmas. \nThe usual parties, and even Christmas Eve church, are out of the question. It's just not safe here, they say. \n"We are afraid of explosions," said Nasreen Thomas, 30, a dentist. \n"Under the old regime we celebrated until the wee hours but this year we can't ... Maybe I won't go out of my house," Thomas said. \nSince US and British troops invaded in March to end more than two decades of dictatorship under Saddam, the US-led coalition has been battling insurgents who target troops and their "collaborators" like Iraqi police. \nInnocent civilians sometimes get hurt in the roadside bombings or grenade attacks meant for security forces. \nBaghdad is subject to rotating power blackouts, and buying gasoline for a car can require sleeping overnight in a long queue. \n"There is nothing. We will sit at home and we won't even go to church. Where will we go? There are no clubs, nothing," said Danny Rass, 51, inside his small liquor store in Baghdad's Karada district, where many in Iraq's Christian minority live. \nNext door, Laith Calotti and his staff were busy selling flowers and Christmas supplies. Business is good, said Calotti, 26. \n"But we are afraid. We are afraid of everything," he said. \nMaha Salam walked out with a bag of miniature Christmas lights but she was not in a party mood. \n"There will be no parties. The electricity is no good. There is no gasoline. This will have a big impact. We will just stay at home," said Salam, who ran a sweet shop until the war. She is too afraid to reopen, she said. \n"Who is happy to celebrate Christmas?" asked Sabieh Isho, 52, a liquor-store owner. \n"This year the celebration has been canceled because there is no security," he said. \nSaddam ruled with the support of the minority Sunni Islamic community while oppressing the Shiite majority of Iraq's estimated 26 million people. \nHis fall has led to fears of sectarian strife and prompted a call for unity on Sunday by the newly appointed leader of Iraq's largest Christian denomination, the Chaldean Catholic Church. \n"All Iraq is our homeland. Iraq is for us all, from north to south," said Patriarch Monsignor Emmanuelle-Karim Delly, 76, during a ceremony for his installation held in Baghdad. \nMonsignor Ishlemon Wardouni, in a homily to welcome Delly, said the new patriarch had been chosen amid "cruel conditions" in his country. \n"We are asking God to help him in his ship, especially in these times, to reach the harbor of peace," said Wardouni, who was interim patriarch before Delly assumed leadership of the world's Chaldeans. \nIraq's estimated 700,000 Chaldeans are the country's largest Christian denomination. \nThey worshipped without restriction under Saddam, and still do. But with Iraq's government structure still undecided, they face the future with uncertainty. \n"Saddam loved the Christians. That's a fact. Now we still don't know. It's only been six or eight months," Calotti said. \nThomas, a stylishly-dressed woman, expressed concern she might be forced to wear Islamic garb. \n"We are waiting for the new government to decide what type of system we will be under," she said. \nOther Christians said they hadn't heard of extremists pressuring non-Muslims to cover their heads. They said Christians lived peacefully with the Muslim majority. \nRass and Isho said they felt threatened but the danger came because of their business, not their religion. \n"Three of my friends were killed," Rasso said, blaming extremist Muslims. \nIsho said ordinary criminals were also a danger. \n"As we stand here now, we don't know if we will be bombed by a grenade or something," Isho said. \nHe closes his doors by 7pm now, three hours earlier than under the old regime. \n"There is no electricity and no security, so why would we stay open?" he asked. \nCalotti, too, locks up his Christmas trees, his flowers and gift baskets just after dark. \n"We don't want Americans. We don't want Saddam. We just want to live in peace," he said.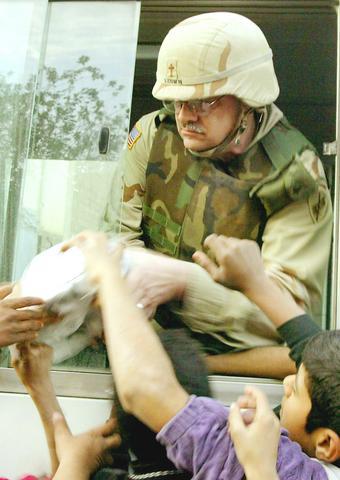 A US soldier distributes Christmas gifts to Iraqi Christian children in Baghdad on Monday.
PHOTO: EPA
Comments will be moderated. Keep comments relevant to the article. Remarks containing abusive and obscene language, personal attacks of any kind or promotion will be removed and the user banned. Final decision will be at the discretion of the Taipei Times.