Women blast headscarf ban
Thousands of people, mainly Muslim women shouting "The veil, my choice," marched through Paris on Sunday against presidential proposals to ban Islamic head scarves from public schools and maybe at work, too.
The protest, a cry of anguish from a rarely heard section of French society, was the first in Paris against President Jacques Chirac's announcement on Wednesday that head scarves and other conspicuous religious symbols, including Jewish skullcaps and large Christian crosses, should be banned from schools to protect France's secular foundations.
Chirac urged parliament to pass the law before the 2004 to 2005 school year starts next September. He also proposed giving company bosses the right to decide whether religious symbols can be worn at work and said a law should stop patients from refusing care from doctors of the opposite sex -- aimed at Muslim women who have rebuffed male medical workers.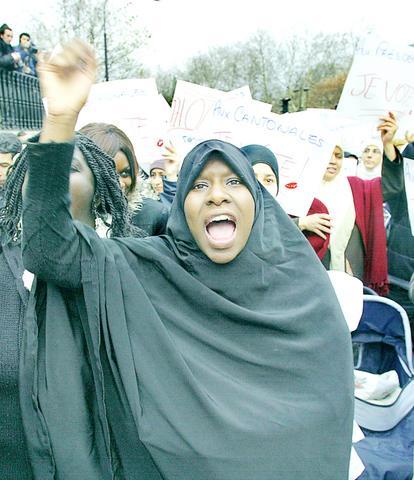 Muslim women in Paris on Sunday protest against a ban on Islamic headscarves in schools, hospitals and public buildings.
PHOTO: AFP
Paris police put the number of marchers at 3,000. More than half were women, girls and even young children wearing head scarves. They marched in a boisterous, flag-waving column hundreds of meters long through rain to the Place de la Bastille, where the prison stormed at the start of the French revolution in 1789 once stood.
Protesters said Chirac's proposed measures stigmatized France's estimated 5 million Muslims, the largest Muslim community in Western Europe, and made a mockery of cherished French values.
"Liberty, equality, fraternity -- apart from for women who wear the veil," said Fatima Boicha, a housewife and mother of two from Mantes-la-Jolie west of Paris whose head and neck were covered with a brown scarf.
"The French state wants us to submit, to tell us what to wear and what not to wear," she added. "None of these women here will take their veils off."
Protesters sang the Marseillaise, the stirring French anthem, waved French tricolors and shouted "Beloved France, where is my liberty?" and other slogans. Some held their identity cards above their heads or pinned enlarged photocopies of their voter cards on their chests to show their French citizenship.
"Proud to be French Muslims," read one banner. "I vote!" said other placards.
Protesters said they were furious that a report commissioned by Chirac and released this month suggested that some Muslim women are forced to wear head scarves by male relatives or to avoid being insulted by men in public.
"Ni frere, ni mari, le foulard on l'a choisi," the demonstrators shouted in a rhyming slogan that translates as "I chose the head scarf, not my brother or husband."
Some women said they would shift their children from public to private schools where the ban would not be implemented if the law is passed.
Comments will be moderated. Keep comments relevant to the article. Remarks containing abusive and obscene language, personal attacks of any kind or promotion will be removed and the user banned. Final decision will be at the discretion of the Taipei Times.