Plan drafted to cancel Bolivia's debts
Spain, Portugal and Latin American nations agreed to a plan to provide financial aid for troubled Bolivia, offering special trade guarantees and ways for the country to cancel its debt with other Latin nations.
Presidents, prime ministers and government ministers from 21 nations attending the two-day Ibero-American summit agreed to the plan in principle, but details remain to be worked out.
Bolivian President Carlos Mesa thanked his colleagues at the summit that closed on Saturday.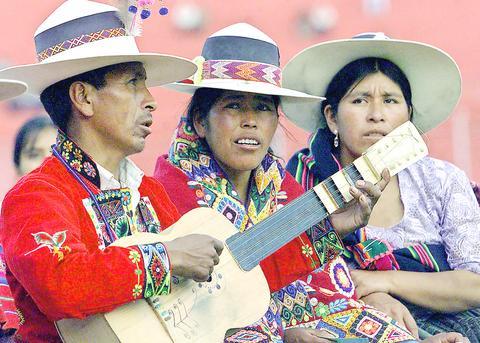 Indigenous indians play music during the closing festival of the Alternative Social Meeting, which took place at the same time as the Ibero-American Summitt in Santa Cruz, Bolivia, on Saturday.
PHOTO: AFP
"You all have come here at a very difficult time for Bolivia and we are appreciative you have been so willing to help us," he said.
Latin leaders also discussed other issues such as narrowing the gap between rich and poor, free trade, education and anti-terrorism efforts.
Meanwhile, thousands of Bolivian students, workers and union leaders wound down their own "alternative" summit aimed at drawing attention to what they say is the negative impact of free market policies on indigenous groups and the poor.
Bolivian Indians in bowler hats and brightly colored shawls listened to fiery speeches and held town hall meetings, debating the region's deep-seated economic and social problems and applauding criticism of US-backed free market policies.
Leaders of the so-called Alternative Social Meeting presented summit leaders with a 13-point declaration on Friday calling for increased sensitivity to the needs of the region's indigenous population and opposing a US administration plan to create an Americas-wide free trade area.
"These are the policies that we believe in and we want you all to be aware of that," said Indian leader Eduardo Medina, speaking before summit leaders.
The summit officials focused on ways to help stabilize Bolivia after deadly street demonstrations forced the ouster of former President Gonazalo Sanchez de Lozada.
At least 59 people died during three weeks of protests over a controversial government plan to export the country's natural gas triggered clashes between poor Bolivian Indians and government troops.
The annual meeting of Ibero-American leaders came a day ahead of the start of the Free Trade Area of Americas meeting in Miami, a plan that has drawn criticism from Brazil and other countries over US-proposed policies to ease trade restrictions across the Americas.
Mexico's President Vicente Fox said he and the leaders of Argentina, Brazil and Chile stood behind efforts to increase regional trade, but emphasized any potential deal would have to be sensitive to the economic and social demands of smaller Latin American countries.
"The four countries are committed to going ahead with the negotiations, but we want to see more flexibility and above all an improvement in the social and economic development in the smaller and poorer countries," he said.
"It would be a mistake if the bigger countries see an agreement as an opportunity to simply open markets and come in and do business," he said.
Comments will be moderated. Keep comments relevant to the article. Remarks containing abusive and obscene language, personal attacks of any kind or promotion will be removed and the user banned. Final decision will be at the discretion of the Taipei Times.