Lynch says army overdramatized her rescue
HER SIDE The private first class, whose biography is just out, said she was `disturbed' by the US Army's version of her escape, but was thankful that her rescuers got her out
Former prisoner of war Private First Class Jessica Lynch said Tuesday she is disturbed that the military seemed to overdramatize her rescue by US troops and spread false stories that she went down shooting in an Iraqi ambush. \n"That wasn't me. I wasn't about to take credit for something I didn't do," she said. "I'm not that person." \nThe 20-year-old former Army supply clerk -- twig-thin and weary, one crutch close at hand -- described her ordeal in an interview seven months after the rescue made her a hero in the US. \nReports circulated by the US military early in the war said Lynch waged a fierce gunbattle with Iraqi fighters who ambushed her 507th Maintenance Company on March 23 at Nasiriyah. She has since said her rifle jammed, and she did not fire a shot. \nA newly released biography of Lynch points out that, despite the "tension and drama" of the military videotape showing gun-toting US soldiers rushing into an Iraqi hospital to rescue her, the hospital staff never resisted, and even offered the troops a key. \n"It disturbed me," Lynch said. "I knew that it wasn't the truth." \nStill, the ex-prisoner of war from rural West Virginia took pains to say that she does not care why the military may have exaggerated her story, and that she considers the soldiers who rescued her April 1 to be heroes. \n"No matter what it was, the point is that they got in there, they rescued me, and they took me home safe," she said. \nLynch, who has fair skin and fine blond hair that falls to her shoulders, physically recoils when she recounts her time in the hospital, a time when her hope dwindled each day that she would see home again -- or even survive. \nBut she said that as she lay in a bed at Saddam Hussein General Hospital, her body wracked, she decided: "I wasn't going to let myself die there." \n"I was determined," she said. "In my mind, I was thinking, `I've got family to get back to, I've got a boyfriend, I've got all these things to see and do when I get home.'" \nLynch gave the interview as her biography, I Am a Soldier, Too, hit bookstores nationwide. It was written by Rick Bragg, who resigned from The New York Times after a freelancer helped him with a story without receiving credit. Bragg was present during the interview. \nThe book describes the Iraqi doctors and nurses who cared for her as thoughtful and gentle people who repeatedly and secretly tried to see her to freedom. \nLynch "lost" -- or cannot remember -- three hours between the ambush, when Iraqi troops swarmed her convoy after it missed a turn, and waking up in an Iraqi military hospital, according to the book. \nIn that time, according to medical records cited in the biography, Lynch suffered spinal fractures and other broken bones and was sodomized. Iraqi doctors have disputed the sexual assault allegations. \nToday, Lynch walks with the help of a single crutch or is shuttled around in a wheelchair. She undergoes two hours of physical therapy a day. "It's getting better every day," she said. "It's a long process, but it's going OK." \nLynch said she tries to avoid news coverage of the fighting in Iraq because her memories are too painful. She said the almost-daily reports of US troop deaths deeply sadden her. \n"It's horrible," she said. "It seems like it's getting worse every day. It's just something that, you know, doesn't seem to get any better." She said all the Americans killed are heroes to her. \nLynch and Bragg are splitting a US$1 million advance from publisher Alfred A. Knopf, which ordered a first run of 500,000 copies. Publicity surrounding the book release has included a television movie and a prime-time TV interview. \nBragg said he sometimes felt guilty during long interviews with Lynch at her home in Palestine, West Virginia, and by telephone. \n"Sometimes, I'd stop asking questions because it was painful to hear," he said. "There are parts of the book that I won't read again because I look at the chapter and I think about Jessi having to talk about it, and it's very hard."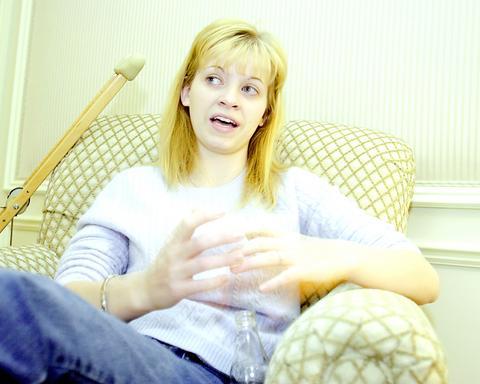 Jessica Lynch says she is ``disturbed'' by military reports that falsely said she went down shooting in an Iraqi ambush and dramatized her rescue by US troops.
PHOTO: AP
Comments will be moderated. Keep comments relevant to the article. Remarks containing abusive and obscene language, personal attacks of any kind or promotion will be removed and the user banned. Final decision will be at the discretion of the Taipei Times.