Putin faces EU questions over Yukos
PURGE FEAR The Russian president and European officials will discuss the crisis, which has affected confidence in big business amid fears of a crackdown
EU leaders were to raise the crisis over Russian oil giant Yukos and seek reassurance that it did not mark a purge against big business in three days of talks with Russian President Vladimir Putin starting yesterday.
The official agenda for Putin's meetings with Italian, EU and French officials is dominated by a battery of economic, security and cultural issues touching on everything from billion-dollar gas deals to museum art shows.
But diplomats say the arrest last month of Mikhail Khodorkovsky, the then-chief executive of Yukos, is bound to be raised, with EU leaders seeking reassurance that the crisis does not mark the start of a purge against big business in Russia.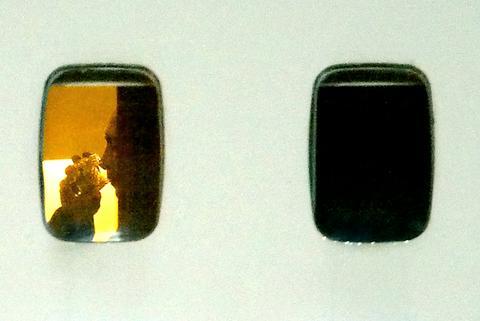 Russian President Vladimir Putin drinks inside his presidential plane as he arrives at Practica di Mare military airbase in Rome on Tuesday.
PHOTO: REUTERS
"I hope the President of the Russian Federation will share with us ... his assessment on what is happening," EU Commissioner for External Relations Chris Patten said on Tuesday evening.
An EU official in Brussels, who declined to be named, told reporters the way the Yukos case was being handled was "way off what we would consider acceptable in the European Union."
Judging by Putin's recent comments, the EU can expect a stout defense of the move against Yukos, which sent the company's shares into a tailspin and shocked investors who had seen a sturdy recovery since Russia's 1998 economic meltdown.
"All of them must learn to live according to the law," Putin told a group of Italian journalists this week, repeating his argument that Khodorkovsky's arrest was purely a judicial matter and that privatizations of the 1990s would not be jeopardized.
Putin will have a sympathetic listener in his first host, Italian Prime Minister Silvio Berlusconi, who has met the Russian leader five times this year and considers him a friend.
The two men are expected to sign a number of accords in the economic and cultural fields, including major deals in the gas sector, possibly involving Russia's Gazprom and Italy's largest utility, Enel.
After a day of meetings with Italian leaders, Putin will cross the river Tiber to see the ailing Pope John Paul.
He has promised to encourage the Russian Orthodox and Catholic churches to improve ties soured by a decade of post-Communist suspicions.
Many obstacles, however, stand in the way of reconciliation between the two Christian faiths and Putin looks unlikely to secure a swift visit by the pope to Russia -- one of the only major states the 83-year old pontiff has yet to visit.
Italy holds the rotating EU presidency and today hosts the twice-yearly Russian-EU summit -- an event soured in recent times by EU concerns over Chechnya and blocked trade talks.
The EU official said that Russia's uncompromising war against Chechen rebels was not formally on the agenda this week but would certainly be raised.
He added that the main subject of discussion would be the "common spaces" agreed to at a summit in May -- common economic space, common space on internal security, common space on external security, and one on research, science and education.
"We now have the will but we need to agree on the content for these," he said.
The final leg of Putin's lightning visit will take him to France for brief talks with President Jacques Chirac.
Comments will be moderated. Keep comments relevant to the article. Remarks containing abusive and obscene language, personal attacks of any kind or promotion will be removed and the user banned. Final decision will be at the discretion of the Taipei Times.