Russian inmates belt out the tunes
Bright lights and toe-tapping tunes -- it could have been any song contest.
But the wardens guarding the auditorium gave it away. The performers were all prisoners from Russia's notoriously harsh jails.
More than 800 hopefuls sent in demo tapes a year ago and judges whittled the numbers down to 23 who strutted their stuff in front of a 1,000-strong audience.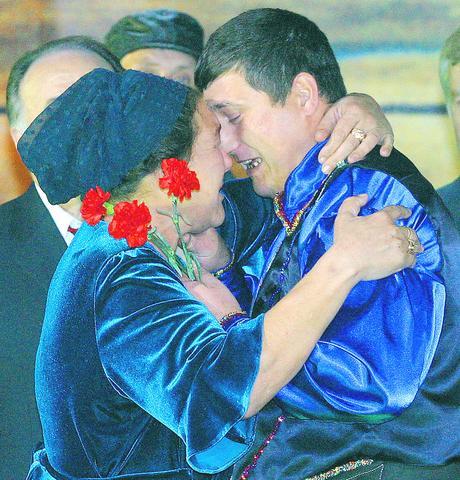 The mother of inmate Salavat Olgi hugs her son at the end of a concert in Moscow on Friday, prior to his return to prison. The concert, called Kalina Krasnaya (Red Snowball Tree), featured performances by 22 inmates, finalists in a country-wide contest among prisoners performing a variety of songs.
PHOTO: REUTERS
Murderers and thieves belted out ballads in a Moscow concert hall, many singing as if their freedom depended on it.
But there were no winners as their fate had already been decided by the Justice Ministry, which organized the contest.
The audience was told six of the singers had been released just hours before the show. But no one knew which ones.
Relatives of inmates waited patiently for performers to come on stage, each hoping his son or daughter was among the six.
Salavat Olgi's tearful mother stood up and waved at her son throughout his rendition of a traditional gypsy song. But happiness at seeing her son on stage turned to disappointment.
"I was sure he was going to be released," she wept.
She was allowed to walk on stage to give him a hug and a kiss before he went back to one of Russia's disease-ridden, cramped prisons.
Organizers said Friday evening's event was unprecedented. "There has been no such competition in any country," said Nikolai Gubenko, member of parliament and ex-culture minister.
Amnesties are often ordered to ease prison crowding in Russia, which has roughly a million inmates -- one of the world's biggest prison populations. Last year some 23,000 mothers were freed under an amnesty.
Performers were barred from singing about prison conditions. Most chose traditional Russian songs, while other prisoners composed their own.
Comments will be moderated. Keep comments relevant to the article. Remarks containing abusive and obscene language, personal attacks of any kind or promotion will be removed and the user banned. Final decision will be at the discretion of the Taipei Times.