US struggles to get some help in Iraq
A US campaign to get more countries to contribute troops to the US-led coalition force in Iraq faces an uphill struggle in the UN Security Council, which remains bitterly divided over the American decision to launch a war against former president Saddam Hussein's regime without UN approval.
The key objection is Washington's insistence on retaining command of all military activity in Iraq -- and its apparent refusal, at least for now, to broaden the UN mandate which calls for the world body to supply humanitarian aid and help rebuild the war-ravaged country.
US troops have come under constant guerrilla attack in Iraq blamed on Saddam loyalists. The massive bomb at UN headquarters in Baghdad that killed 23 people and wounded at least 100 others added to the security woes of the US-British occupation force.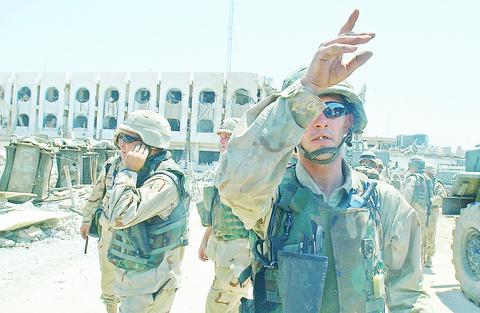 US soldiers inspect the damage caused by the bomb attack at the UN headquarters in Baghdad. Washington wants UN member states to contribute more to the rebuilding of Iraq, but other governments are reluctant and UN Secretary-General Kofi Annan has ruled out the possibility of sending UN peacekeepers.
PHOTO: AP
US Secretary of State Colin Powell launched the drive for a new UN resolution on Thursday, calling on member states "to do more" to help Iraq.
US Ambassador John Negroponte said later that Washington wants the resolution to encourage countries to provide troops, financial assistance, and help with police training to beef up security.
France, which led opposition to the war in Iraq, said that if the US now wants countries to share the military burden of restoring peace to the country, it must share authority.
Expressing concern at the increase in acts of terrorism and sabotage, France's deputy UN ambassador Michel Duclos asked whether "we would be in this state" if a genuine international partnership had been established at the outset, under the guidance of the UN, to address Iraq's problems.
Powell reaffirmed the US determination to succeed in Iraq and insisted US leadership provides "competent control" of the coalition force.
He stressed that the US-led force in Iraq is multinational already, with 30 nations providing 22,000 troops -- 11,000 of them from close ally Britain.
"But perhaps additional language and a new resolution might encourage others," he said.
The US will not offer to broaden the UN mandate in Iraq, however, but it is willing to work on language that might make it more attractive for countries to contribute troops or money, council diplomats said, speaking on condition of anonymity.
British Foreign Secretary Jack Straw, who is scheduled to meet UN Secretary-General Kofi Annan Friday morning, echoed the need for a single command, saying: "If you want to be an effective military operation ... then the command has to be through the United States."
France, Russia, India and Germany have ruled out sending soldiers to Iraq unless a multinational force is authorized by the UN.
Without US agreement to cede some control to the world body, diplomats said the possibility of a robust international force appeared unlikely to attract much support.
The US position was certain to be a disappointment to France, Russia, China, Germany and other council members who opposed the war and have pressed for an expanding the UN mandate in Iraq beyond providing humanitarian assistance and helping to rebuild the country.
Russia's UN Ambassador Sergey Lavrov said he believes the UN should be more involved in Iraq.
"That's the easy part," he said. "How is the more interesting and difficult question."
Pakistan's UN Ambassador Munir said Thursday's briefing "started the ball rolling" on a new resolution.
"Everybody wants to help in stabilization," he said, "but it's a question of how we get that additional stabilization" -- whether through the coalition force or additional forces.
Comments will be moderated. Keep comments relevant to the article. Remarks containing abusive and obscene language, personal attacks of any kind or promotion will be removed and the user banned. Final decision will be at the discretion of the Taipei Times.