Two strong earthquakes shake Japan
NO DEATHS Although homes were destroyed and roads, bridges and the rail system damaged, 246 citizens suffered only slight injuries and there were no casualties
Two strong earthquakes shook northern Japan yesterday, leaving at least 246 people with mostly minor injuries. Officials said area rail traffic was halted, power was cut to tens of thousands of homes and dozens of houses were damaged.
The costliest quake struck shortly after dawn, shaking Miyagi state, about 300km northeast of Tokyo, the Meteorological Agency said. The magnitude-6.2 quake was followed by smaller aftershocks.
So far, 246 people were treated at local hospitals for minor injuries, including 17 from an earlier quake, mostly cuts and bruises, Miyagi state police spokesman Kazuo Horie said. Two people were hospitalized with head injuries.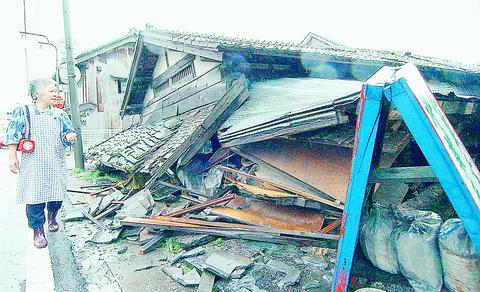 A woman looks at a crushed house caused by strong earthquakes in Kanan, Miyagi prefecture in northern Japan yesterday.
PHOTO: AP
NHK showed houses with roofs partly collapsed and others with pieces of walls shorn off. A two-story house collapsed, crushing a car parked inside its garage. About 120 houses were damaged, including 50 in the town of Nango, police said.
Roads were blocked and bridges cracked. Part of a dike along a river that runs through the town of Kashimadai collapsed, posing a danger of possible flooding in the area, Miyagi prefectural official Kazuo Horie said.
About 130 residents in the nearby town of Naruse were evacuated, local official Yukichi Onuma said. Two people were rescued from a collapsed house, police said. About 500 residents in neighboring towns voluntarily evacuated to elementary schools, community halls and other facilities, NHK said.
A town hall building in nearby Yamoto was tilting, forcing officials to work inside a makeshift tent set up at a parking lot in the compound as rain drizzled, town official Katsuo Atsumi said.
JR East Sendai station temporarily stopped train service after a four-car local train derailed near the town of Kanan. Nobody was injured from the derailing. By late morning, most trains, including "bullet" express trains, resumed service.
Blackouts hit about 100,000 homes, although power to about half was restored within hours, said Satoshi Kasugakawa of Tohoku Electric Power Co.
Earlier yesterday, a 5.5-magnitude earthquake injured at least 17 people, said Miyagi prefectural official Takashi Chiba. Those injuries were also minor.
The quakes were most strongly felt in the towns of Yamoto and Naruse.
Town officials said that there were scattered reports of damaged rock walls and water pipes.
Disaster prevention minister Yoshitada Konoike urged residents to stay calm.
The Defense Agency was preparing to dispatch more than 100 soldiers to clean up debris from collapsed houses, an agency spokesman said.
Officials said there was no damage to a nearby nuclear power plant at Onagawa.
The Meteorological Agency said there was no danger of tsunami, or giant waves caused by earthquakes, but warned of possible mudslides.
Agency spokesman Katsutake Nishide said the area was prone to damages because of the series of recent earthquakes it suffered, as well as heavy rains since earlier this week that have loosened the soil.
He said, however, there were no links between Saturday's earthquakes and the so-called Miyagi-oki quake, which seismologists say has hit the area cyclically in every three to four decades. The last one that struck the area in 1978 killed nearly 30 people.
An earthquake of magnitude 5 or higher can cause damage when centered in a heavily populated area. Japan is one of the world's most earthquake-prone countries.
Comments will be moderated. Keep comments relevant to the article. Remarks containing abusive and obscene language, personal attacks of any kind or promotion will be removed and the user banned. Final decision will be at the discretion of the Taipei Times.