Where crime and politics collide
URBAN WARFARE The bickering among the different levels of government in Brazil means that the ordinary people cower in fear while the terrorists have free rein
The increasing boldness and strength of criminal gangs here in Brazil's showcase city is sowing alarm and impatience among the residents, who complain that political rivalries and bickering between the federal and local governments are blocking an effective response. \nHeavily armed drug trafficking groups have been a serious problem for years in the squatter slums that offer both a haven and a source of recruits. But in the past month the gangs have been attacking government buildings, shopping centers, hotels, buses and even highways from the airport, virtually unchallenged, apparently in direct defiance of government authority. \n"This city is immersed in an urban guerrilla war, promoted by armed and organized terrorist groups," the Brazilian Federal Police superintendent here, Marcelo Itagiba, warned recently. \n"They are ready to confront the reaction that is going to be coming from the state," he said. \nAfter a bus carrying 20 police officers was attacked last month because a drug lord objected to its presence in territory he controlled, the governor of the state of Rio de Janeiro, Rosinha Matheus, finally acted. She fired the state public security secretary and replaced him with "the one who is most important to me, my husband," Anthony Garotinho, the former governor. \nFor Garotinho, a politician of national stature who is already thinking about a second run for president in 2006, the job has its risks. As the news magazine Isto E described the situation, "Either Garotinho does away with the bandits or the bandits do away with Garotinho." \nGarotinho, 43, was elected governor of the state in 1998 and resigned to run in the presidential election last fall. In the first round of voting, he finished third among the four principal candidates, with 15 million votes, and helped Matheus, a political novice, to get elected state governor. Then he helped Luiz Inacio Lula da Silva to win more than 80 percent of the vote here in the runoff. \nBut after da Silva took office in January, Garotinho's camp was largely passed over for Cabinet and other government posts, and he and his wife have sniped at da Silva since then. One result has been a notable lack of trust between the governments and of coordination in combating the crime wave. \n"Even the walls of police stations know that representatives of the federal government and the state authorities aren't speaking the same language," the columnist Helena Chagas wrote last month in the daily newspaper O Globo. "In the meantime, the level of audacity of organized crime, which readily senses this butting of heads, rises daily." \nIn February, just before Carnival, Matheus requested army units to patrol the streets and challenge the drug gangs. Local news reports said she wanted troops to remain indefinitely, but the federal government refused when she would not agree to a series of policy changes. \nSince then, the Brazilian press has been filled with reports that the national authorities in the capital, Brasilia, are considering a direct federal intervention in the state government. \nThe Brazilian constitution permits such a step under certain circumstances, but there would be some strong opposition and, under the law, it would freeze a proposed nationwide tax and social security reform plan. \nPolice and intelligence officials say that much of the violence is the work of the country's most notorious drug trafficker, Luiz Fernando da Costa, nicknamed Fernandinho Beira-Mar, or "Little Freddy Seashore." \nHe was captured in Colombia in 2001, where he had taken refuge with left-wing guerrillas, and was jailed here, but had exercised authority from his cell until prison conditions were recently made more rigorous for him and other gang bosses. \nBrazil does not have a federal prison system, so da Silva's government temporarily moved the crime lord to Sao Paulo and then, when authorities there demanded that he move on, tried to dump him on some of the country's poorest and most remote states. \nIn each case, there were public protests, and the federal government was forced to pay off a small state to put him in a prison. \n"The Fernandinho Beira-Mar situation has shown that drug trafficking gangs today are not just a local issue but a problem with national and even international dimensions," said Julita Lemgruber, director of the Institute for the Study of Security and Citizenship. \n"The state of Rio is not going to win this battle, but it can take steps to neutralize this explosive combination of drugs and arms," Lemgruber said.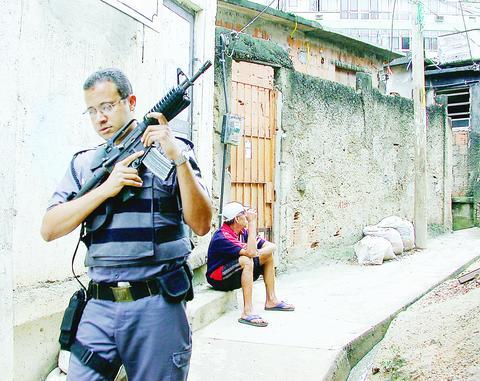 Police patrol a shanty-town area in Rio de Janiero. Such patrols are rare, leaving most of these communities at the mercy of drug gangs and armed rebels.
PHOTO: NY TIMES NEWS SERVICE
Comments will be moderated. Keep comments relevant to the article. Remarks containing abusive and obscene language, personal attacks of any kind or promotion will be removed and the user banned. Final decision will be at the discretion of the Taipei Times.