British Office reassures on policy
CABINET RESHUFFLE: An official said David Cameron knows his role as foreign secretary, and he understands that China and the world have changed since he was PM
The British Office Taipei said that the UK's Taiwan policy remains unchanged after a Cabinet reshuffle.
Former British prime minister David Cameron, who lauded a "golden era" of UK-China ties during his administration, last week was appointed British secretary of state for foreign, Commonwealth and development affairs, raising concerns over possible changes to British attitudes toward Taiwan and China.
Cameron has "made clear" that his approach to the Indo-Pacific region "is very much keeping with our approaches that have been over the last few years," British Representative to Taiwan John Dennis told reporters yesterday.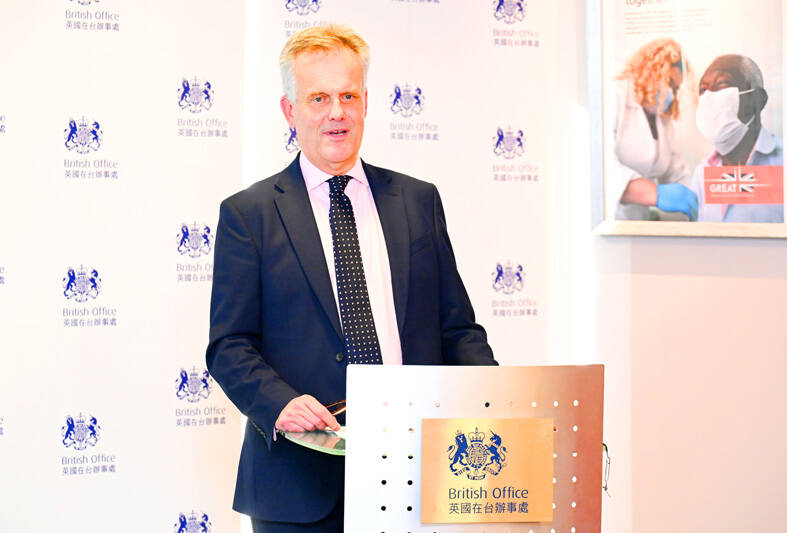 British Representative to Taiwan John Dennis speaks at a news conference in Taipei yesterday.
Photo: Tien Yu-hua, Taipei Times
Cameron is well aware of his position as foreign secretary, and understands that China and the world have changed since he led the UK, a British Office Taipei official said.
There has so far been "total consistency" in British approaches toward Taiwan and the region, another official said.
It is challenging to "try and have a relationship with a much more aggressive China," Dennis said, adding that the UK is to seek dialogue with Beijing while maintaining a sense of protection and security.
The UK is to be "absolutely clear-eyed" about its engagement with China to ensure that the British people, democracy, relationships and economy are protected, he said.
Dennis also reaffirmed the UK's commitment "to grow and deepen our mutually beneficial relationship," including supporting Taiwan's meaningful participation in international organizations, and underlining that peace and stability across the Taiwan Strait are "indispensable to security and prosperity in the international community."
Last month marked 30 years since the office was established, "a sign of the strength and longevity of the relationship between the UK and Taiwan" in trade, science and technology, education and more, he said.
The most recent achievement between the two sides was the signing of the first UK-Taiwan Enhanced Trade Partnership Arrangement earlier this month, he said.
The arrangement sets out Taiwan's and the UK's priorities for discussions in three key areas — two-way investment, digital trade, and clean energy and net zero emissions, he said.
The two sides have begun consulting the industry sector and other entities on possible cooperation with the goal of signing separate agreements, office officials said, adding that great momentum has been reported by both sides.
The discussions might be expanded to other areas, they said.
Comments will be moderated. Keep comments relevant to the article. Remarks containing abusive and obscene language, personal attacks of any kind or promotion will be removed and the user banned. Final decision will be at the discretion of the Taipei Times.