Hou suggests new method
New Taipei City Mayor Hou You-yi (侯友宜), the Chinese Nationalist Party's (KMT) presidential candidate, yesterday proposed a new plan to form a joint ticket with Taiwan People's Party (TPP) Chairman and presidential candidate Ko Wen-je (柯文哲) for January's election.
Each party would pick two experts to re-evaluate nine polling results and reach a new conclusion based on their statistical analyses, Hou told a news conference, expressing hope that a KMT-TPP alliance would succeed.
The parties on Saturday failed to reach a consensus on a united ballot due to disagreements methodology.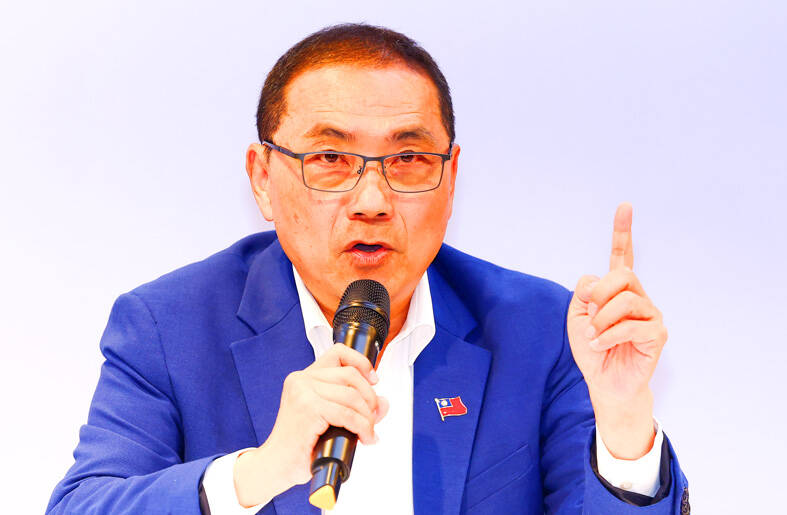 New Taipei City Mayor Hou You-yi, the Chinese Nationalist Party's (KMT) presidential candidate, speaks at a news conference in Taipei yesterday.
Photo: CNA
The KMT originally proposed an analysis of nine polls, but later agreed to take out three that favored a Hou-led pairing after the TPP rejected polls conducted solely via landline calls.
Of the six remaining polls, the KMT said a margin of error analysis found that five supported a Hou-led ticket, while the TPP said that a different margin of error led to an even 3-3 split.
Ko had called to express the hope that both sides would resume negotiations on an alliance, Hou said, adding that an alliance was also an expectation of most Taiwanese.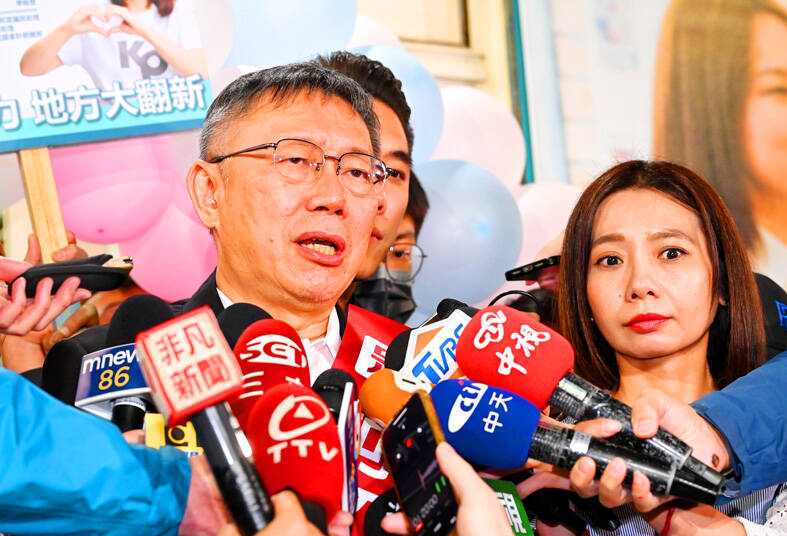 Taiwan People's Party Chairman and presidential candidate Ko Wen-je speaks to reporters in New Taipei City yesterday.
Photo: Liu Hsin-de, Taipei Times
Hou said the discussion by the four experts would be livestreamed online and that "whatever the result, be it a Hou-Ko ticket or a Ko-Hou ticket, I am willing to accept it."
In response, Ko said the TPP would hold a press conference today to address KMT's latest proposal.
When asked whether he would only accept the top spot on the joint ticket, Ko said only that he hoped both sides would choose a combination that maximizes the chances of winning.
Earlier yesterday, TPP campaign spokeswoman Vicky Chen (陳智菡) said that Ko's campaign director, former Taipei deputy mayor Vivian Huang (黃珊珊), would pick up a registration form for Ko today and that Ko plans to register either tomorrow or on Friday.
Ko's campaign manager, Vincent Chou (周榆修), said that it was "not an option" for Ko to be Hou's running mate.
"If it is to be a Ko-Hou ticket, everyone would work for that," Chou said.
Meanwhile, Chinese-language media reported that Hon Hai Precision Industry Co founder Terry Gou (郭台銘), an independent candidate, might also seek a collaboration with Ko.
The deadline to register as a candidate is Friday at 5:30pm.
Additional reporting by Huang Chin-hsuan and agencies
Comments will be moderated. Keep comments relevant to the article. Remarks containing abusive and obscene language, personal attacks of any kind or promotion will be removed and the user banned. Final decision will be at the discretion of the Taipei Times.