HFC imports to be controlled from next year
Hydrofluorocarbon (HFC) imports are to be controlled from next year under new regulations announced by the Ministry of Environment on Monday, mainly impacting air-conditioner, refrigerator and semiconductor manufacturers.
The new rules would require businesses to apply before they may import a limited amount of HFCs.
Primarily used for cooling, insulation and aerosol propellant, HFCs pose a serious climate threat, representing an estimated 2 percent of all greenhouse gases.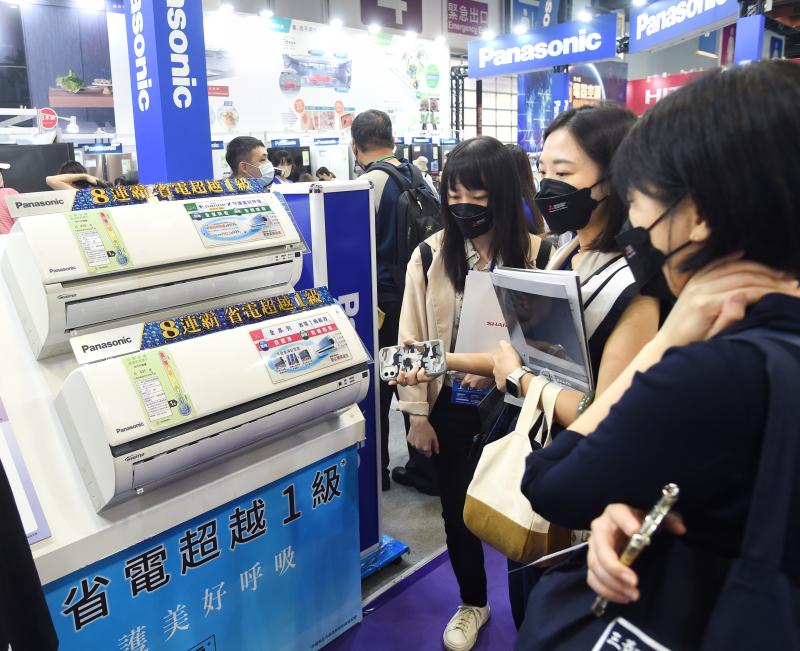 People view air-conditioners at an electronics expo at the Taipei World Trade Center on Sept. 2 last year.
Photo: Fang Pin-chao, Taipei Times
Under the Kigali Amendment to the Montreal Protocol ratified in 2019, more than 150 countries have agreed to reduce production and consumption of the synthetic gases by at least 80 percent over the next 30 years.
If achieved, experts estimate it could reduce global warming by 0.4℃ by the end of the century.
The most recent regulatory changes are intended to bring Taiwan in line with the agreement, Department of Atmospheric Environment Director-General Tsai Meng-yu (蔡孟裕) said.
Although HFCs do not harm the ozone, they are still serious greenhouse gases, with the warming effect of some types up to 10,000 times greater than that of carbon dioxide, Tsai said.
In Taiwan, HFCs are mainly used by semiconductor fabs to clean electronic components, as well as for refrigeration, air-conditioning and in some fire-fighting and foaming materials, he said.
No HFCs are produced domestically, with about 21,000 tonnes imported last year, Tsai said.
From next year, importers would not be allowed to use more than 24,523.8642 kilotonnes of carbon dioxide equivalent, the new rules state.
They also set benchmarks of 10 percent reduction by 2029, 30 percent by 2035, 50 percent by 2040 and 80 percent by 2045.
As alternatives are available for air-conditioning, Tsai estimated that impact on the public would be limited, but more research is needed to find suitable alternatives for the semiconductor industry.
Additional reporting by CNA
Comments will be moderated. Keep comments relevant to the article. Remarks containing abusive and obscene language, personal attacks of any kind or promotion will be removed and the user banned. Final decision will be at the discretion of the Taipei Times.