Hiker found safe after five days
A hiker was found safe on Monday after five days missing in the mountains in Hualien County.
The woman surnamed Lee (李), 45, last week joined a group of six hikers traversing the Mabolasi Crossing Trail (馬博橫斷路線).
The Hualien County Fire Department said it at 5pm on Wednesday received a call from the group saying that one of their members was missing.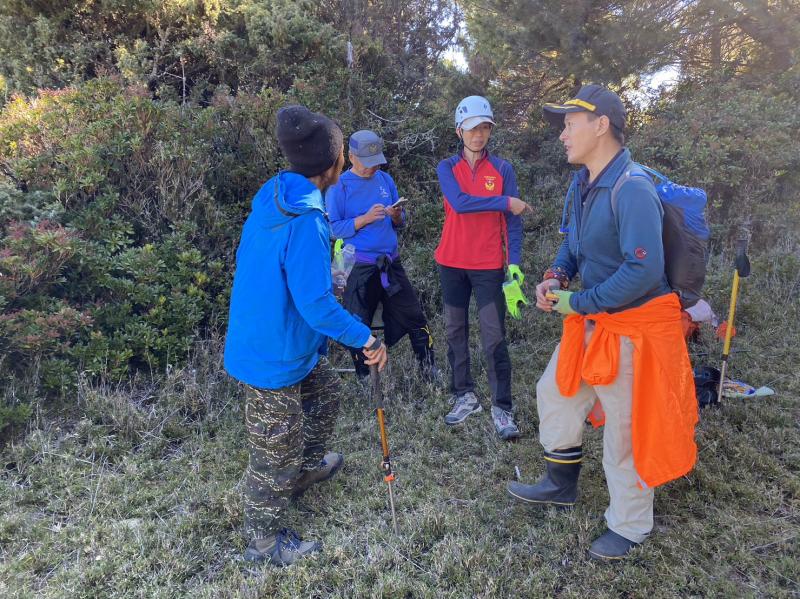 Rescuers on Monday talk with a woman who had been missing for five days in the mountains of Hualien County.
Photo courtesy of the Hualien County Fire Department
Lee broke away from her fellow hikers to summit Kasivanan Mountain (喀西帕南山) in Hualien County's Jhuosi Township (卓溪), but later lost contact, the department said.
Rescuers on Friday found Lee's cellphone and ID card, but she remained missing, it said.
Lee was eventually found in the area at about 11am on Monday, it said.
She was in good condition, only a little dehydrated, the department said, adding that rescuers gave her water and were leading her back to a nearby campsite to be evacuated by helicopter.
The weather was relatively cold for the six days and five nights she spent on the mountain, but Lee was sufficiently prepared with warm clothes, a sleeping bag, tent, stove and food, the department said.
Comments will be moderated. Keep comments relevant to the article. Remarks containing abusive and obscene language, personal attacks of any kind or promotion will be removed and the user banned. Final decision will be at the discretion of the Taipei Times.