Lai to name top US diplomat as running mate today: staff
Vice President and William Lai (賴清德), the Democratic Progressive Party's (DPP) presidential candidate, is set to announce Representative to the US Hsiao Bi-khim (蕭美琴) as his running mate in the January election, his campaign staff said yesterday.
The announcement would be made today after Hsiao arrives in Taiwan early in the morning, the campaign staff said.
She would then join Lai's campaign and register her candidacy at the Central Election Commission tomorrow, they said.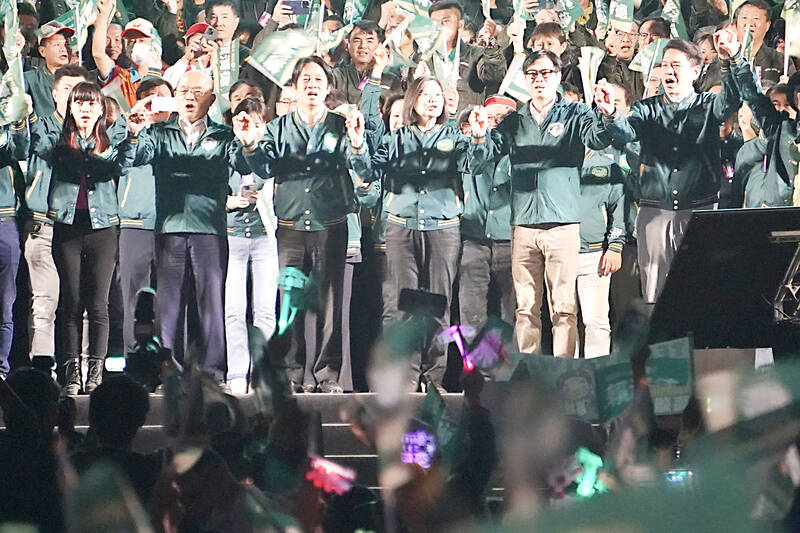 From second left, former premier Su Tseng-chang, Democratic Progressive Party presidential candidate Vice President William Lai, President Tsai Ing-wen and Kaohsiung Mayor Chen Chi-mai cheer on stage at a campaign rally in Kaohsiung yesterday.
Photo: CNA
The pair would campaign for the party's legislative candidates, attending events such as the inauguration of a joint campaign headquarters for Lai and the DPP's legislative nominee Chang Mei-hui (張美慧) in Hualien County on Sunday, they said.
Candidates for the presidential election must register from today to Friday, and are prohibited from campaigning on behalf of other candidates once officially on the ballot, according to the commission.
Hsiao, 52, has served as Taiwan's representative to Washington since July 2020.
Meanwhile, at a campaign rally in Kaohsiung yesterday, Lai said there was a rumor that "more than 60 percent of people want the DPP to step down."
Lai said that numerous polls have showed that the DPP has the support of more than 30 percent of respondents when asked which party they hope will be the ruling party, followed by the Chinese Nationaliast Party (KMT) with about 20 percent and the Taiwan People's Party (TPP) at about 10 percent.
"You could say that about 60 percent disapprove of the DPP, but there are even more people, at about 70 to 80 percent, who are opposed to the KMT being the ruling party, and about 80 to 90 percent who oppose the TPP as the ruling party," he said.
Therefore the biggest consensus is for the DPP to be the ruling party, Lai said, adding that "neither the blue [KMT] nor the white [TPP] represent the mainstream opinion."
Comments will be moderated. Keep comments relevant to the article. Remarks containing abusive and obscene language, personal attacks of any kind or promotion will be removed and the user banned. Final decision will be at the discretion of the Taipei Times.