NHRI develops vehicle to combat dengue fever
INSECTICIde: An NHRI research team has developed an uncrewed ground vehicle systems that can enter sewers and ditches to exterminate mosquitoes
The National Health Research Institutes (NHRI) said yesterday that its research team had developed an uncrewed ground vehicle systems capable of entering ditches in urban areas to observe mosquito ecology and effectively apply insecticide for vector control.
More than 8,000 local cases of dengue fever have been reported in Taiwan this year, and as the disease is transmitted to people through the bite of infected mosquitoes, effective vector control is paramount in preventing dengue transmission.
In the past, governments have relied on people to patrol the sewers and ditches for mosquito larvae, which requires a lot of effort and time, but poses a risk to the workers and can miss some hidden breeding grounds, NHRI National Mosquito-Borne Diseases Control Research Center project assistant investigator Liu Wei-liang (劉韋良) said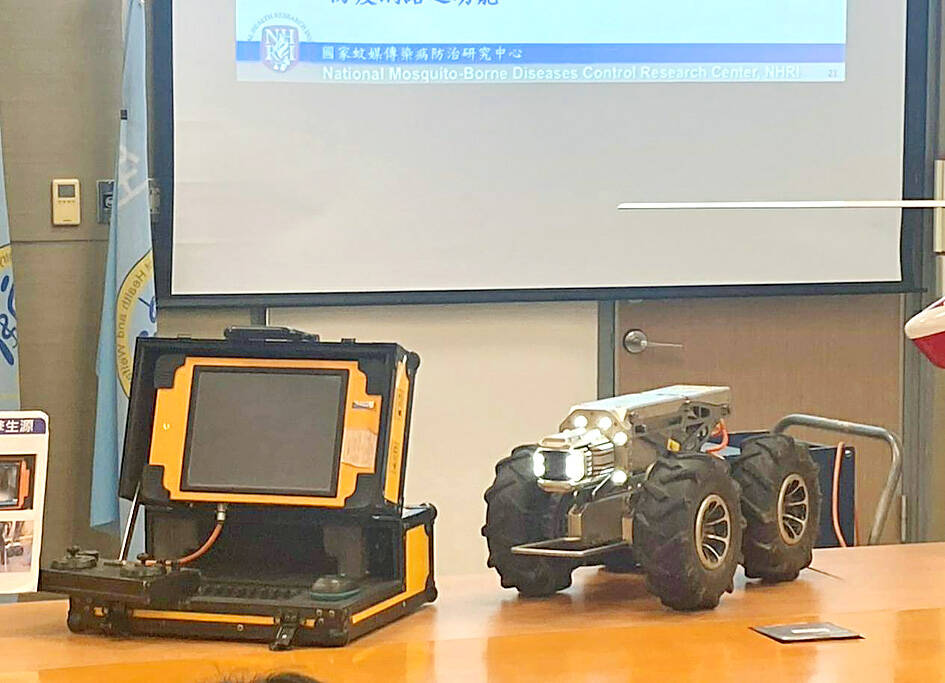 An uncrewed ground vehicle system developed by the National Health Research Institutes is displayed yesterday in Taipei.
Photo courtesy of the institute
Liu and the research team collaborated with the Kaohsiung Department of Health and an aerospace technology company to develop uncrewed ground vehicle systems that can enter sewers and ditches to observe mosquito ecology. They have tested it in one of five districts in Kaohsiung from May to August in 2018.
Lui said they found mosquitoes in about 21 percent of the inspected ditches. He added that after deploying another unmanned ground vehicle equipped with high-temperature water spray to clean the larvae breeding grounds and insecticide spray to kill the mosquitoes and larvae, the vector density reduced from 0.62 to 0.19.
The team's study has been published in the peer-reviewed scientific journal PLOS Neglected Tropical Diseases, titled "Use of unmanned ground vehicle systems in urbanized zones: A study of vector Mosquito surveillance in Kaohsiung" in June.
Liu said as the ground vehicles currently have individual functions, the team is working to further improve the high-resolution digital camera and spraying system, hoping that the functions can be integrated to one vehicle that can effectively and instantly monitor mosquitoes and implement spraying controls.
Max Lo (羅正方), National Drone Industry Association chairman, said the ground vehicles are most suited for monitoring hard-to-reach areas by people, such as inside sewers and ditches, and as technology continues to advance, some vehicles are not only waterproof, but have several other functions.
The team hopes to improve the unmanned ground vehicle systems to include monitoring, cleaning, and insecticide spraying he said, adding that unmanned aerial vehicles are also being used to patrol gutters and water towers on the rook of empty buildings this year, and that the drones can detect standing water and spray insecticide, saving patrol and disinfection manpower.
Comments will be moderated. Keep comments relevant to the article. Remarks containing abusive and obscene language, personal attacks of any kind or promotion will be removed and the user banned. Final decision will be at the discretion of the Taipei Times.