Ministry condemns 'recent record' PLA incursions
The Ministry of National Defense on Monday condemned Chinese military "harassment" of Taiwan, after a recent record of 103 warplanes were detected near the nation in the previous 24 hours.
From 6am on Sunday to 6am on Monday, the ministry said it detected 103 Chinese People's Liberation Army (PLA) warplanes and nine naval vessels operating in the nation's vicinity.
Of them, 40 aircraft had crossed the median line of the Taiwan Strait or crossed into the southwest air defense identification zone, it said.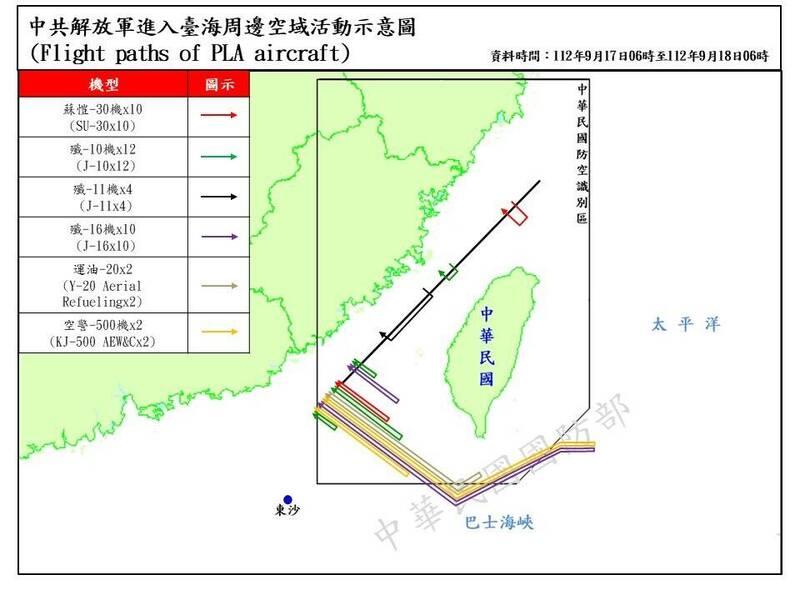 A map shows flight paths of Chinese warplanes near Taiwan from 6am on Sunday to 6am on Monday.
Photo courtesy of the Ministry of National Defense
They include 10 Su-30, 12 J-10, four J-11 and 10 J-16 fighter jets, as well as two Y-20 aerial refueling planes and two KJ-500 airborne early warning and control aircraft, it added.
The ministry said it had tasked combat air patrol aircraft, navy vessels and land-based missile systems to respond.
The number of incursions marked a new high in recent times, posing a "serious challenge" to security in the Taiwan Strait and wider region, the ministry said.
"Continued harassment by the Chinese military is likely to cause a sharp rise in tensions and deteriorate regional security," it said, calling on Beijing to "immediately cease such destructive and unilateral behavior."
Comments will be moderated. Keep comments relevant to the article. Remarks containing abusive and obscene language, personal attacks of any kind or promotion will be removed and the user banned. Final decision will be at the discretion of the Taipei Times.