Arsonist's life imprisonment verdict upheld
The life imprisonment verdict handed down by the Taiwan High Court in the case of an ethnic Chinese man from Myanmar, who was initially sentenced to death for setting a fire in his rented residence that killed nine people, was upheld by the Supreme Court on Wednesday after it rejected an appeal by prosecutors.
Li Kuo-hui (李國輝), who said other tenants in the apartment building in New Taipei City's Jhonghe District (中和) often taunted him, set the fire on the evening of Nov. 22, 2017, by pouring gasoline on the staircase on the fourth floor of the building and igniting it, after which he fled the scene.
The blaze engulfed the building's fourth and fifth floors, and led to the deaths of nine tenants.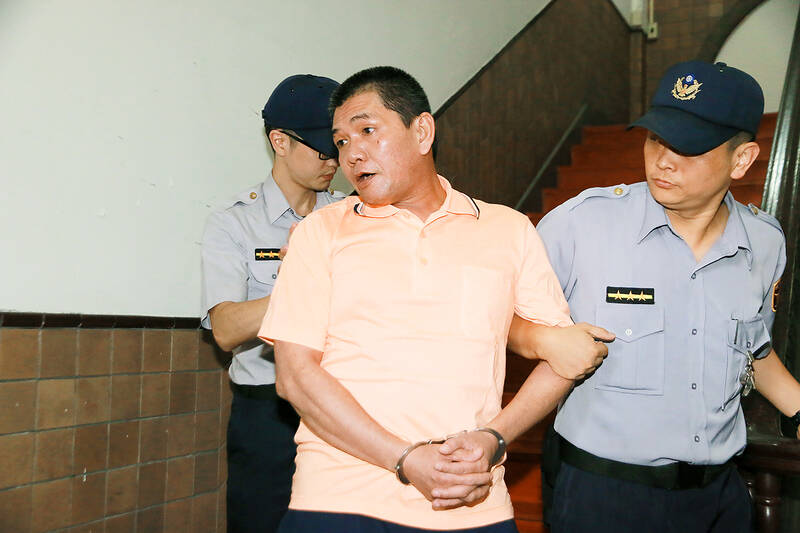 Convicted arsonist Li Kuo-hui, center, appears at the High Court in Taipei on Aug. 2, 2018.
Photo: CNA
After being arrested, Li admitted committing arson, but denied his intent was to commit murder.
The New Taipei City District Court concluded in its ruling in 2018 that Li set the fire out of anger, causing the deaths of nine people, and sentenced him to death for murder.
The defendant appealed the ruling and saw it upheld by the Taiwan High Court three times — a first trial at the High Court and two retrials after it was sent back by the Supreme Court.
The verdict was upheld after it was determined Li had no mental disorders when he set the fire and was wanted by the police for two earlier counts of arson in May and June 2017.
However, the Supreme Court ordered a third retrial by the High Court, after determining that the High Court's second retrial did not fully explain or examine Li's motive or ability to defend himself during the trial.
In the case's third retrial in December last year, the High Court concluded that Li set the building on fire with the intention of killing a tenant surnamed Chen (陳), who survived the blaze, and as such the killing of the other nine tenants was "indirectly intentional" and so could not be construed fully deliberate.
As a result, the third trial at the High Court downgraded Li's crime and instead sentenced him to life imprisonment, while maintaining the life-long deprivation of his civil rights handed down by the district court.
Prosecutors appealed the ruling, but the Supreme Court upheld the High Court's third retrial verdict and rejected the appeal on Wednesday, ending the case.
Comments will be moderated. Keep comments relevant to the article. Remarks containing abusive and obscene language, personal attacks of any kind or promotion will be removed and the user banned. Final decision will be at the discretion of the Taipei Times.