MODA to create model for news media bargaining act
The legislature's Education and Culture Committee yesterday passed a motion requiring the Ministry of Digital Affairs (MODA) to finalize by August a model that would serve as a basis for drafting a news media bargaining law to govern pricing content.
The ministry should make a decision after analyzing similar legislation in other countries, together with bills proposed by legislators on the committee, the motion says.
The committee called a meeting with concerned government agencies after Taiwanese news media associations conducted two rounds of negotiations with representatives of Google and Meta in December last year and in March.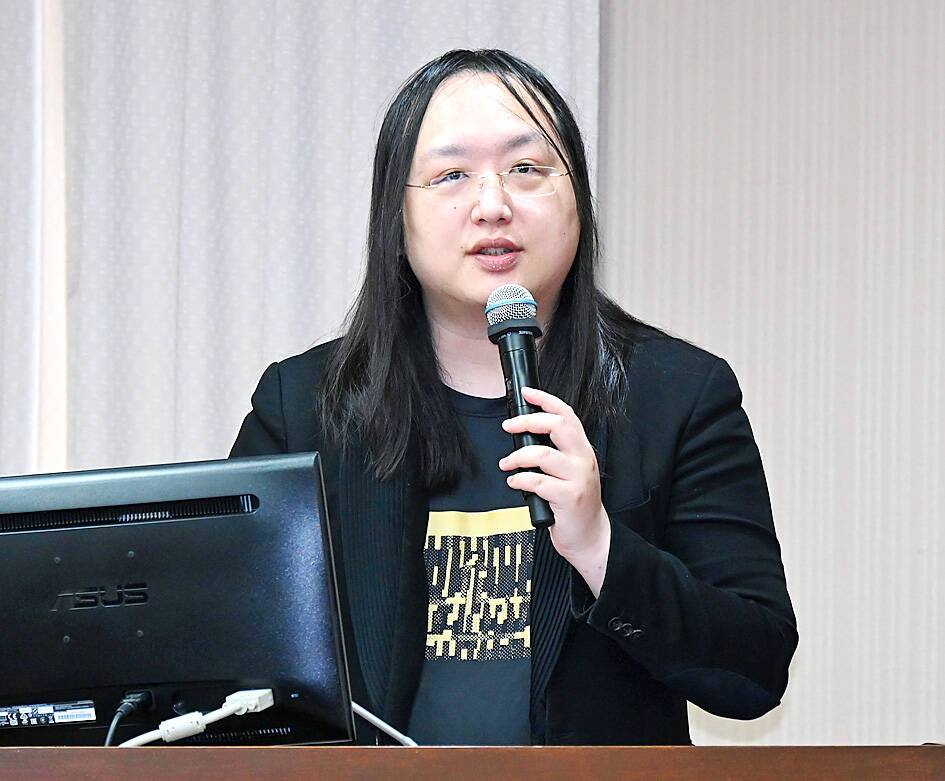 Minister of Digital Affairs Audrey Tang speaks at a meeting of the legislature's Education and Culture Committee in Taipei yesterday.
Photo: Chu Pei-hsiung, Taipei Times
Following negotiations in December, Google on March 8 launched a Taiwan News Digital Co-Prosperity Fund, in which it pledged to spend NT$300 million (US$9.78 million) in the next three years to facilitate the digital transformation of Taiwan's news industry.
Meta rejected any co-prosperity plan.
Democratic Progressive Party Legislator Chang Liao Wan-chien (張廖萬堅) said the dialogue between digital platforms and Taiwanese news media failed to touch on the matter of legislation, which is the core issue.
Google's co-prosperity fund would only spend NT$100 million per year, which looks more like a public relations fund to appease local news media, Chang Liao said.
"The fund would be managed by the Digital Transformation Association, but we are not certain if it is a credible organization and would safeguard freedom of speech," he said, adding that the fund should be managed by the government.
Deputy Minister of Digital Affairs Lee Huai-jen (李懷仁) told the committee that all government agencies have agreed that news has value, is related to public interests and should not be treated as a mere commodity.
The co-prosperity fund would not be enough to support local news media, as issues such as a reasonable division of profit between news media and digital platforms must be addressed, he said.
A third round of dialogue is to be held soon after the Digital Transformation Association begins accepting applications for funding from news media outlets, he said.
"We hope the dialogue would also be a way to supervise how the co-prosperity fund is used," he said.
Meanwhile, the Executive Yuan has tasked the MODA and the Fair Trade Commission to study similar laws in other countries and consider what the best model for Taiwan would be, he said.
The News Media Bargaining Code in Australia makes it mandatory for digital platforms to negotiate over the pricing of content with news media should the two fail to reach an agreement, but such a practice would put small and medium-sized news media in an unfavorable position, he said.
Taiwan's Copyright Act would have to be completely amended should the nation adopt neighboring rights in the EU copyright law demanding payments from digital platforms for using content produced by news media, he said.
The Ministry of Finance rejected levying a digital tax, Lee added.
Comments will be moderated. Keep comments relevant to the article. Remarks containing abusive and obscene language, personal attacks of any kind or promotion will be removed and the user banned. Final decision will be at the discretion of the Taipei Times.