Government could do more to attract tourists: experts
The government has room to improve in terms of attracting international visitors to Taiwan, as the number of inbound travelers has so far only returned to 30 percent of the level recorded in 2019, tourism experts told a public hearing yesterday.
The legislature's Transportation Committee organized the hearing to discuss actions that could be taken by the government and private sector to boost the tourism industry in the post-COVID-19 era.
Huang Cheng-tsung (黃正聰), an associate professor at Providence University's Department of Tourism, said that the number of inbound and outbound passengers together has over the past few months reached 40 to 50 percent of the level seen before the COVID-19 pandemic, peaking during the Lunar New Year holiday and 228 Memorial Day long weekend.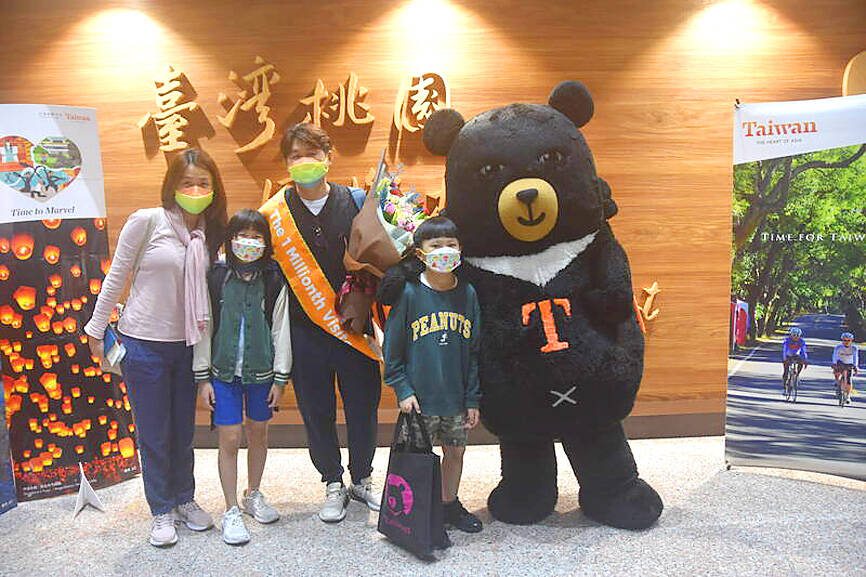 A Malaysian family poses for a photograph at Taiwan Taoyuan International Airport on Saturday, after the father became the 1 millionth passenger to arrive at the airport this year.
Photo courtesy of the Tourism Bureau
Taiwan's recovery rate is slower than Australia, New Zealand, and European and North American countries, he said.
"This shows that Taiwan is having a slower recovery in international travel," Huang said.
However, the number of inbound travelers has only returned to 30 percent of the 2019 level, while the number of outbound travelers rebounded to 50 to 60 percent of the 2019 level, he said.
"The large tourism deficit shows there is still a lot of room for improvement in attracting travelers from other countries," Huang said.
Lee Ye-horng (李貽鴻), an adjunct associate professor at Ming Chuan University's Department of Leisure and Recreation Management, said a majority of international visitors now come from Southeast Asian countries.
On average, they have less spending power than people from other countries and stay mainly in Taipei, Lee said.
"In addition to those who arrive for tourism purposes, others who come to study, shop, visit relatives, access healthcare services and undergo training, as well as those who are here for business and religious purposes, should all be considered tourists," Lee said. "As such, all administrative agencies should jointly participate in marketing efforts to promote tours to Taiwan."
Minister of Transportation and Communications Wang Kwo-tsai (王國材) said that the number of inbound visitors on Saturday last week surpassed 1 million, exceeding the target of 820,000 that the Tourism Bureau set for the first quarter.
"The bureau has also offered incentives to attract individual and group travelers from overseas," Wang said, adding that whether Chinese tourists are allowed to visit Taiwan hinges on Beijing's regulations.
Separately, the Tourism Bureau and Taiwan International Ports Corp (TIPC) participated together in Seatrade Cruise Global, the largest cruise industry gathering in the world. It started on Monday in Fort Lauderdale, Florida.
"Since Taiwan eased its COVID-19 restrictions in October last year, 310 cruise ships are forecast to berth in Taiwan this year, nearly half of the number forecast in 2019," said Wang Jing-rong (王錦榮), general manager of TIPC's Kaohsiung branch.
"This shows that international cruise companies still have confidence in Taiwan's cruise tour market," he said. "To attract more cruise ships to berth in Taiwan, we are offering cruise companies the most favorable terms. Hopefully, the cruise ship market will prosper as before."
Comments will be moderated. Keep comments relevant to the article. Remarks containing abusive and obscene language, personal attacks of any kind or promotion will be removed and the user banned. Final decision will be at the discretion of the Taipei Times.