Former national security official appointed AIT chair
A former senior national security director for China and Taiwan to US President Joe Biden has been tapped as the incoming chair of the American Institute in Taiwan (AIT).
Laura Rosenberger, who most recently served as special assistant to the president and US National Security Council's senior director for China and Taiwan, is to replace James Moriarty as chair of the board of the AIT on March 20, the institute said in a news release.
"As AIT Chair, Ms Rosenberger will participate in policy-level discussions on Taiwan and represent the Administration in visits to Taiwan and in meetings with Taiwan representatives in the United States," it said.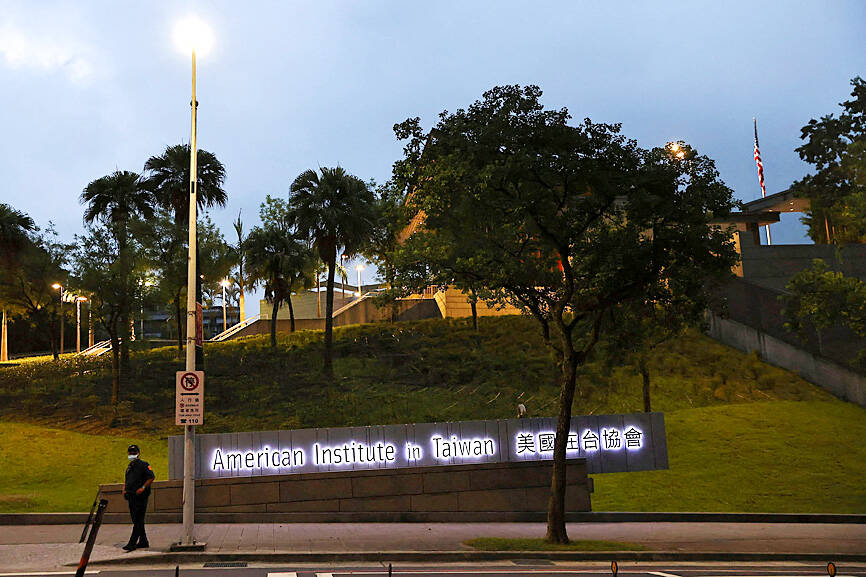 A policeman stands guard in front of the American iInstitute of Taiwan in Taipei on Aug. 2 last year.
Photo: Ann Wang, Reuters
"Ms Rosenberger will bring to AIT nearly two decades of deep, high-level experience on the Indo-Pacific, including on Taiwan, China, cross-Strait, and broader national security issues," it added.
Moriarty is retiring after serving as AIT chair since 2016.
It is headquartered in Virginia, and has a main office in Taipei and a branch office in Kaohsiung.
Its Taipei director served as the top US envoy to Taiwan in the absence of official diplomatic ties, while its chair serves more of a ceremonial role.
A Reuters report cited four people familiar with the Biden administration's thinking as saying that Rosenberger would take a more "hands-on approach" to unofficial ties with Taiwan than her two predecessors.
A major focus of her job will be to maintain communication channels with candidates in Taiwan's presidential election next year, a potentially fraught moment between Taipei and Beijing, Reuters quoted the people as saying.
Ministry of Foreign Affairs spokesman Jeff Liu (劉永健) welcomed the appointment of the new AIT chair on behalf of the Taiwanese government while thanking Moriarty for enhancing Taiwan-US relations during his seven-year tenure.
Comments will be moderated. Keep comments relevant to the article. Remarks containing abusive and obscene language, personal attacks of any kind or promotion will be removed and the user banned. Final decision will be at the discretion of the Taipei Times.