All measures to be eased as early as May: CECC
All remaining COVID-19 restrictions could be eased by May and the Central Epidemic Command Center (CECC) could be disbanded, Deputy Minister of Health and Welfare Victor Wang (王必勝), who heads the CECC, said yesterday.
However, the moves would depend on whether three phases of eased restrictions, which would be implemented after the mask mandate is lifted at schools on Monday, are successful, Wang added.
In the first phase, starting as soon as this month, the requirement that people who test positive for COVID-19 must quarantine could be partly eased, he said.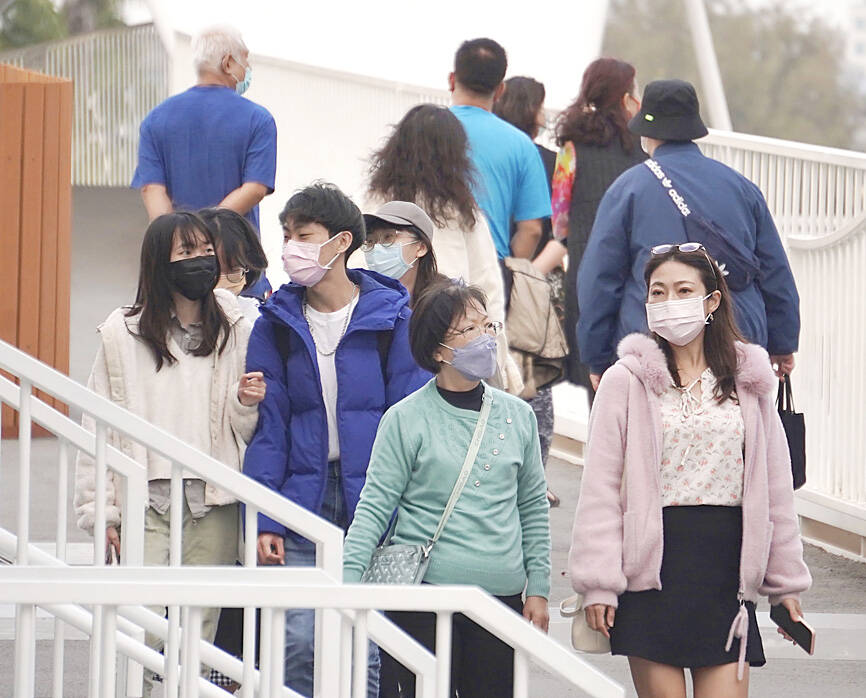 People walk in a park in Kaohsiung's Yancheng District yesterday.
Photo: CNA
People who test positive, but only have minor symptoms, would no longer need to report their infection to health authorities, Wang added.
In the second phase, beginning as early as next month, infection control measures at hospitals and medical facilities would be loosened gradually, Wang said.
In the third phase, COVID-19 would be downgraded one level to a category 4 infectious disease, and the CECC would either be disbanded or downgraded from a level 1 unit to level 2 or 3, he said.
However, when the first phase starts depends on the effects of lifting the mask mandate at schools, he said, adding that the government would take as much time as it needs to monitor the situation.
New phases might be implemented in conjunction with international developments related to the pandemic, such as a meeting next month at which the WHO is expected to revoke the Public Health Emergency of International Concern classification of COVID-19, and the US ending its COVID-19 emergency in May, he said.
However, amendments to the Communicable Disease Control Act (傳染病防治法) would also be necessary, Wang said, adding that he hopes the legislature would pass them during its ongoing session.
Separately, Centers for Disease Control (CDC) Deputy Director-General Philip Lo (羅一鈞) said that his agency would purchase more mpox vaccine doses and medication to treat the condition formerly known as monkeypox.
The statement came a day after Taiwan reported its first two local cases of the disease.
The CDC is tracking 25 contacts of the cases, six of whom are at high risk, Lo said, adding that the agency is holding talks on a vaccine strategy, including how to expand eligibility before a major outbreak could occur.
At present, only close contacts of confirmed cases and laboratory workers are eligible for vaccination.
Minister of Health and Welfare Hsueh Jui-yuan (薛瑞元) said that purchasing more mpox vaccines "is a must."
The nation only has 1,100 doses and medication to treat 500 people, the CDC said.
Additional reporting by CNA
Comments will be moderated. Keep comments relevant to the article. Remarks containing abusive and obscene language, personal attacks of any kind or promotion will be removed and the user banned. Final decision will be at the discretion of the Taipei Times.