Gongliao plant to stay off
MOTHBALLED: No work would be conducted on the Fourth Nuclear Power Plant, the EPA head said, after a KMT lawmaker urged more nuclear power generation
Taiwan is unlikely to restart work on the mothballed Fourth Nuclear Power Plant in New Taipei City's Gongliao District (貢寮) with the aim to activate it, unless the government changes its nuclear energy policy, the Environmental Protection Administration (EPA) said yesterday.
EPA Minister Chang Tzi-chin (張子敬) made the remark at a joint meeting of the legislature's Judiciary and Organic Laws Committee and Social Welfare and Environmental Hygiene Committee, which was scheduled to review the draft "ministry of environment organic act."
Chinese Nationalist Party (KMT) Legislator Lin Szu-ming (林思銘) said many countries that had plans to decommission their nuclear power plants have announced that they would allow them to operate longer as part of their efforts to meet net zero carbon emission goals.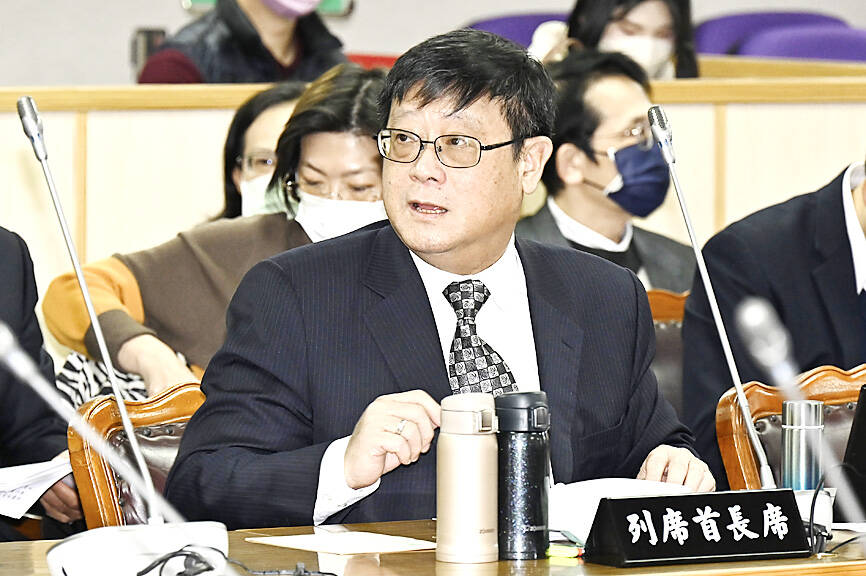 Environmental Protection Administration Minister Chang Tzi-chin addresses the legislature in Taipei at a committee hearing yesterday.
Photo: Tu Chien-jung, Taipei Times
Some countries are even planning to build more reactors to address domestic energy crises and issues related to climate change, Lin said.
Lin asked Chang if Taiwan could increase nuclear energy generation in addition to efforts to increase output from green energy sources.
Chang said Article 23 of the Basic Environment Act (環境基本法) stipulates that "the government should establish plans to gradually achieve the goal of becoming a nuclear-free country."
"As such, the nuclear-free policy remains unchanged, unless there is an amendment to the act," Chang said.
In addition to setting the goal to phase out nuclear energy generation, the article also states that the government should also bolster nuclear safety management and control, protections against radiation, the management of radioactive materials, and monitoring of environmental radiation to safeguard the public from the dangers of radiation exposure.
Separately, a group of environmentalists held a rally at New Taipei City Hall urging the city government to decommission the Guosheng Nuclear Power Plant as scheduled this year after it reaches its 40-year lifespan.
The No. 2 reactor at the plant is set to go offline on March 14.
The nuclear power plant has about 9,620 bundles of high-level nuclear waste and 59,000 barrels of low-level nuclear waste on site, the demonstrators said.
The reactor's fuel rods cannot be removed because the government has not yet determined where they would be stored, they said.
"The large amount of undisposed nuclear waste has made it difficult to extend the lifespan [of the Guosheng Nuclear Power Plant], and the government has no other option but to decommission it," they said. "New Taipei City residents must still live with risks of radiation from the nuclear waste, even though it will be kept in dry storage."
Citizen of the Earth, Taiwan deputy executive director Tsai Chung-yueh (蔡中岳) accused "certain" KMT politicians of using unscientific information to support extending use of the Guosheng plant.
"They ignore safety risks of nuclear energy and problems with nuclear waste disposal. They also ignore the fact the [Guosheng plant] is above an active fault and its continued operation could expose 23 million people in this country to tremendous nuclear safety risks. However, they appealed to the public to extend the use of [the plant], which is an irresponsible move," Tsai said.
Green Citizens' Action Alliance secretary-general Tsuei Su-hsin (崔愫欣) said that the plant's No. 1 reactor had to be taken offline earlier than scheduled last year because the plant's cooling pool ran out of space for spent fuel rods.
"The problem with Taiwan's nuclear power plants is that the storage capacity for nuclear waste was designed to last only 20 years. [Plans for] a dry storage site have yet to be finalized due to design flaws of the facility and miscommunication with local residents," Tsuei said.
Comments will be moderated. Keep comments relevant to the article. Remarks containing abusive and obscene language, personal attacks of any kind or promotion will be removed and the user banned. Final decision will be at the discretion of the Taipei Times.