No Taiwanese injured in shooting
No Taiwanese expatriates or students were injured or killed in a shooting in Half Moon Bay, California, on Monday, the Ministry of Foreign Affairs said on Tuesday night, citing information from the Taipei Economic and Cultural Office (TECRO) in San Francisco.
Seven people were killed in the incident in northern California, which occurred two days after a shooting in Los Angeles County's Monterey Park, which left 11 people dead on Lunar New Year's Eve.
Three of the deceased in Saturday's shooting were confirmed to be of Taiwanese descent.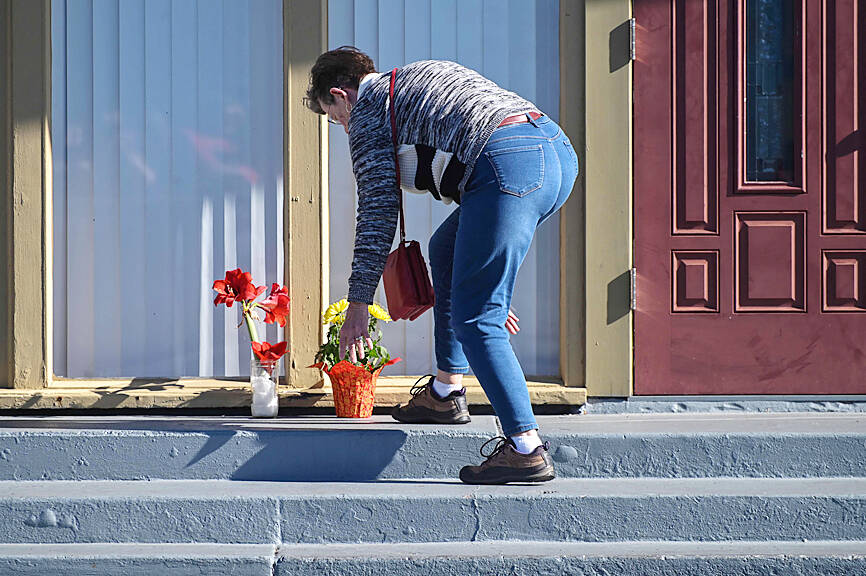 A woman on Tuesday leaves flowers outside the Half Moon Bay IDES Society for those who died in a shooting in Half Moon Bay, California.
Photo: AFP
"We have asked our colleagues at the TECRO office in San Francisco to verify if any Taiwanese were killed or hurt in the shooting in Half Moon Bay," Ministry of Foreign Affairs spokesman Hsiao Kuang-wei (蕭光偉) said.
"So far, no Taiwanese expatriates or students were affected by the shooting," he said. "We will continue to monitor further information about the incident, and the TECRO office in San Francisco would keep in close contact with government agencies, expatriate associations, Taiwanese student groups and other emergency assistance organizations in California for updates about the shooting."
The Democratic Progressive Party (DPP) and Chinese Nationalist Party (KMT) on Tuesday expressed condolences to the victims of the Monterey Park shooting.
"We want to express our deepest condolences to the victims and strongly condemn this violent incident," DPP spokeswoman Hsieh Pei-feng (謝佩芬) said. "We sincerely hope that people who sustained injuries in the shooting will make a speedy recovery."
KMT Chairman Eric Chu (朱立倫) wrote on Facebook that he is deeply saddened by the tragedy.
"Monterey Park, also known as 'Little Taipei,' is home to many Taiwanese expatriates and a sister city to New Taipei City's Yonghe District (永和)," Chu said. "The two cities have built friendships through multiple exchanges over the years. We were concerned and deeply saddened about the tragedy."
"We also want to encourage Taiwanese expatriates in Monterey Park to beware of their safety and support one another during this difficult time," he added.
Comments will be moderated. Keep comments relevant to the article. Remarks containing abusive and obscene language, personal attacks of any kind or promotion will be removed and the user banned. Final decision will be at the discretion of the Taipei Times.