Doctor cautions against excitement, late nights
WARNING: Immune system confusion could be caused by a sudden change in sleep patterns and could be worsened by large swings in temperature, a doctor said
Staying up late and excitement could affect the immune system and cause dizziness or short-term hearing problems, a doctor said on Saturday.
Many Taiwanese stay up late and play mahjong or engage in other activities with family members during the Lunar New Year holiday, but this could cause problems, Kaohsiung Medical University's Chung-Ho Memorial Hospital physician Chang Ning-chia (張寧家) said.
The Lunar New Year holiday this year runs from Friday last week through Sunday.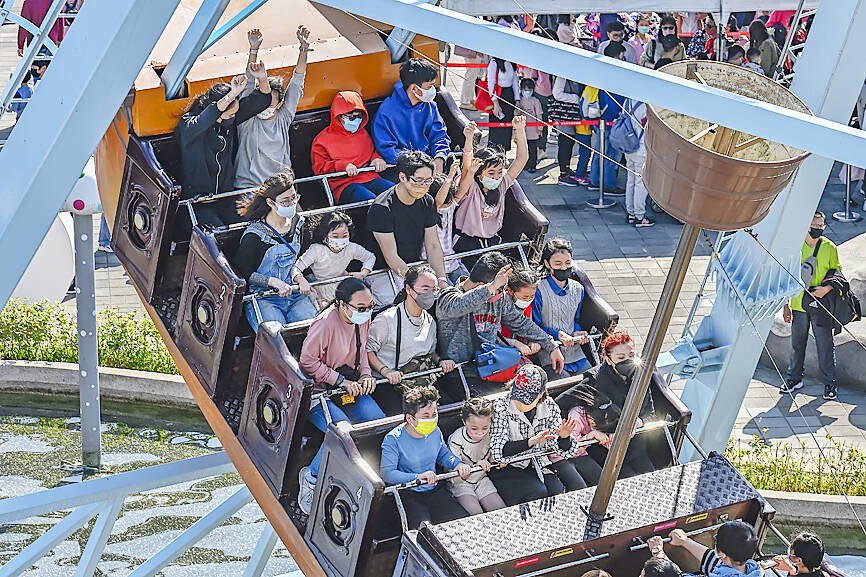 People ride the "Pirate Ship" at the Taipei Children's Amusement Park in Taipei on the first day of the Year of the Rabbit on Sunday.
Photo: Chen Chih-chu, Taipei Times
"A lack of sleep and excitement can easily confuse the immune system. If that leads to inflammation of the vestibulocochlear nerve, dizziness could occur," he said.
Confusion of the immune system could be caused by a sudden change in sleep patterns and could be exacerbated by large differences in day and night temperatures that occur in winter, he added.
The condition is sometimes accompanied by an acute inner-ear infection and temporary hearing loss, Chang said.
However, if people also experience vertigo that persists for more than a few hours, they should seek medical help, he said.
"People should not worry too much if vertigo goes away in a few hours, as it was probably caused by fatigue or a lack of sleep," he said.
"However, if vertigo lasts for a few days, it might mean that the vestibulocochlear nerve has become inflamed and needs attention," he added.
Each ear has a vestibulocochlear nerve and they need to send signals to the brain in tandem, Chang said, adding that the signal is disrupted when one of the nerves become inflamed.
Another cause of dizziness might be benign paroxysmal positional vertigo, which happens when a person moves their head rapidly, for example by repeatedly lying down and getting up, he said, adding that the symptom usually goes away on its own.
"People with Meniere's disease also experience dizziness, vertigo and hearing loss, and could also experience migraines and tinnitus," Chang said.
"Those with the condition should eat lightly and limit the intake of salt, coffee, pickled foods and fermented dairy products," he said.
Motion sickness is also common during holidays, due to changes in sleeping and eating patterns, as well as time spent on the road, Chang said, adding that people with the symptom can take motion-sickness medication that contains antihistamines.
"If you feel sick while driving, pull over and close your eyes or stare at something far off to reduce the vestibular eye movement reflex caused by stimulation of the balance system," Chang said.
"Breathing fresh air also helps," he said, urging drivers not to eat too much before hitting the road.
Comments will be moderated. Keep comments relevant to the article. Remarks containing abusive and obscene language, personal attacks of any kind or promotion will be removed and the user banned. Final decision will be at the discretion of the Taipei Times.