FEATURE: Holidays can be stressful for pets, too
While the long Lunar New Year holiday is a festive time for people to reconnect with family and friends, the hustle and bustle can be stressful or even overwhelming for pets, experts said, urging owners to watch out for potential dangers to their beloved companions.
The Taipei City Animal Protection Office said that every Lunar New Year holiday, it receives reports of pets being frightened by firecrackers and running away or wandering off and getting lost while their owners attended to their guests.
The office told pet owners that when at home, they should make sure that all exterior doors and windows are closed, and when outdoors, they should pay special attention to their pets to prevent them from wandering off, or getting lost, injured or killed.
Two dogs are pushed in a pet stroller in Taipei in an undated photograph.
Photo: New Taipei City Animal Protection and Health Inspection Office
The Taipei Department of Environmental Protection last year picked up 937 roadkills, including 18 cats and 14 dogs that were registered, so their owners were informed of their deaths, the office said.
Most of the owners said that their pet had wandered off when they had visitors, while some said they usually allowed their pet to roam freely, it said.
Holiday safety tips by the American Veterinary Medical Association suggest that owners provide a safe place (such as a crate, scratching post shelf, or another quiet room with some toys and a comfortable bed) for pets when guests are visiting, and to watch exits and their pets closely, especially when people enter or leave the house.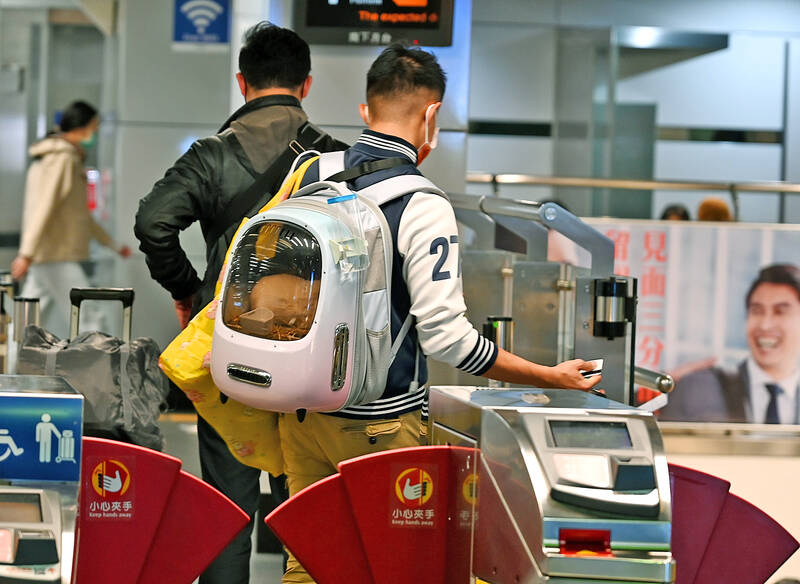 A traveler with a pet backpack crosses a high-speed rail gate in Taipei yesterday, the third day of the Lunar New Year holiday.
Photo: Wang Yi-sung, Taipei Times
The association also recommends that owners keep human food out of the reach of their pets and ask their guests to do the same, and to clear food from the table or counters after using them and make sure the trash is placed where pets cannot reach it, as some human food are hazardous to pets.
Kaohsiung City Animal Protection Office director Yeh Kun-sung (葉坤松) said that pet owners should not leave table scraps in the trash, especially sharp chicken or fish bones, or fruit cores, as they can get stuck in a cat's or a dog's throat, or even injure their esophagus or stomach, which might require surgery.
If pet owners wish to give their pets extra food for the holiday, they should buy special pet food made by reputable companies that are properly packaged and have clear labels, he said.
Poorly preserved food may turn moldy and degenerate, which can be toxic or life-threatening, he said.
The Taipei City Animal Protection Office also urged owners to make sure their pets are kept on a leash and preferably with an escape-proof harness when going out for a walk, and to hold the leash securely to prevent them from running away or dashing into dangerous situations when they are startled or excited.
Owners should also make sure their pets have a proper identification tag or registered microchip with up-to-date contact information, so that if they sneak out or run away, they could be found more easily, it said.
People who find suspected lost pets can call the 1959 Animal Protection Hotline to help keep them safe temporarily, it added.
Pet owners traveling during the holiday should plan ahead and take precautions to keep their pets safe, whether they are taking them along or leaving them behind, it said.
If the pets are to be left with a pet boarding service, the owner should make sure the facility is legally certified, sign a written contract with the facility, prepare their medications and leave an emergency contact info, it said, adding that pets should be microchipped and vaccinated against rabies regularly.
Veterinarian Feng Tsung-hung (馮宗宏) said if a pet has chronic illnesses, such as heart disease, diabetes or kidney disease, the owner should check if there is enough medicine for the whole holiday period, as such medicine should not be skipped.
Yeh also encouraged pet owners to check the availability of veterinary clinics near their home or in the city or county they are visiting during the holiday, and to keep the contact information at hand in case of emergency.
Veterinarian Shane Lin (林子軒), who is a certified cat behavior consultant, last week shared some advice on Facebook with cat owners who are traveling without their pet.
The first option is to keep the cat at home and ask trustworthy experts or friends or family to come by every day to look after it, refill its food, clean its litter box and play with it if the cat allows it, Lin said.
The second is placing the cat in a pet boarding facility, he said.
Most cats would feel more anxious in an unfamiliar environment, but it is still safer having experts at the facility take care of them, rather than keeping them alone at home if no one can check on them daily, he said.
In both options, owners should prepare enough medicine for common use and special conditions, leave at least two emergency contact information, as well as information on the veterinary clinic that is familiar with the cat's medical record, or those that are nearby and open during the long holiday, she said.
Comments will be moderated. Keep comments relevant to the article. Remarks containing abusive and obscene language, personal attacks of any kind or promotion will be removed and the user banned. Final decision will be at the discretion of the Taipei Times.