Three Taiwanese detained in Cairo receiving assistance
The Ministry of Foreign Affairs on Wednesday said that it has asked Taiwan's mission in Jordan to help three Taiwanese, including an art director in the film industry, being held at Cairo International Airport on suspicion of "theft of artifacts."
"The Taipei Economic and Cultural Office in Amman has contacted Chen Hsuan-shao (陳炫劭) and his family to offer assistance if necessary," ministry spokeswoman Joanne Ou (歐江安) said.
Chen was nominated for Best Art Direction at the 2019 Golden Horse Awards for his work on the film The Garden of Evening Mists.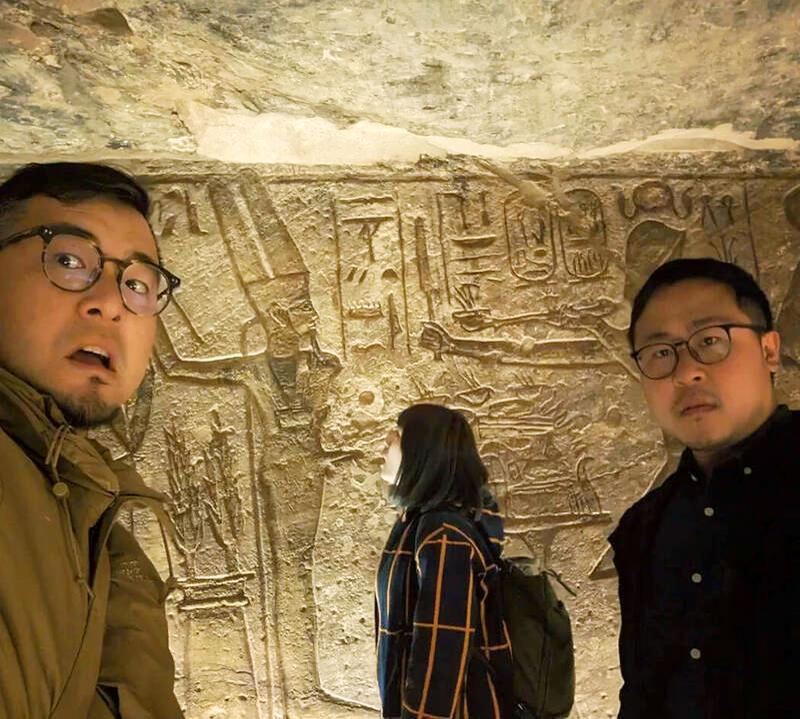 Film art director Chen Hsuan-shao, left, his brother and girlfriend take a selfie at a tourist spot in Egypt.
Photo: grab from Chen's FB
The Taiwan External Trade Development Council personnel stationed in Cairo visited the travelers, while it helped Chen hire a lawyer to assist with a hearing to be held in a Cairo court on Wednesday, Ou said.
Ou made the comments after Chen asked for help in a social media statement that detailed how he and two friends on Tuesday were prevented from taking an Emirates flight from Cairo to Jordan because the authorities suspected them of stealing artifacts.
Chen said they had boarded the flight after Egyptian customs officers examined their luggage for more than an hour, during which several items purchased at local bazaars were confiscated.
However, they were asked by airport police before departure to leave the plane, and were taken to a small room where five or six groups of agents checked other souvenirs they purchased, Chen said, adding that he showed agents photographs taken with market vendors and provided their business cards.
During the search, which took two or three hours, the trio were repeatedly asked why they were in Egypt and what their occupations were, Chen said.
They were also confined to the room, had their cellphones taken away and were watched by two guards even when using a toilet, he said.
Chen said they had been detained in the room for more than 10 hours when he sent the post while surreptitiously using his computer.
Chen thanked the ministry for the help he received, but said he felt like an "orphan" because of Taiwan's diplomatic difficulties and the ministry's nearest office being in neighboring Jordan.
The sister of one of Chen's two friends said on social media that the lawyer the three were assigned was unable to meet with them, and they were told that a local court would hold a hearing on Wednesday, without being officially informed of the charges.
The trio could be charged with purchasing the items through unknown channels and displaying an uncooperative attitude, the woman cited Egyptian officials as saying.
Comments will be moderated. Keep comments relevant to the article. Remarks containing abusive and obscene language, personal attacks of any kind or promotion will be removed and the user banned. Final decision will be at the discretion of the Taipei Times.