Group protests end to gender studies
Birthrate 'sacrifice': Gender and women's studies programs help societies break gender stereotypes and contribute to social liberalization, an international panel said
Students at Shih Hsin University's Graduate Institute for Gender Studies have formed a group to protest an alleged plan to close the program, saying that the institute should not be sacrificed on account of the declining birthrate.
Media have reported that the institute, northern Taiwan's first graduate program for gender studies, is to be the latest scholastic casualty of the nation's falling birthrate.
An international panel meeting this week to evaluate Taiwan's adherence to the UN Convention on the Elimination of All Forms of Discrimination Against Women also raised concerns about the rumor.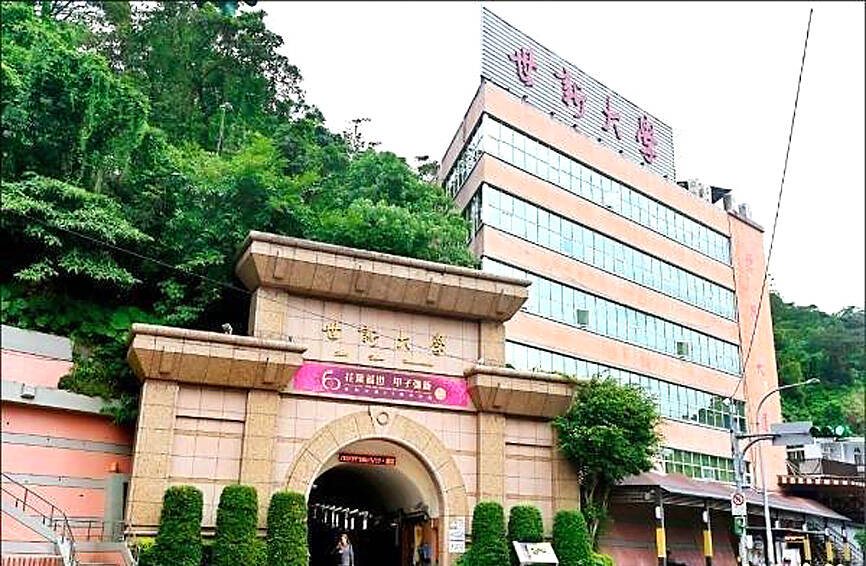 The entrance to the Shih Hsin University campus in New Taipei City is pictured in an undated photograph.
Photo: Taipei Times file photo
The panel requested a response from the Ministry of Education and the Executive Yuan.
Gender and women's studies programs play a crucial role in helping societies break gender stereotypes, panel members said, adding that more should be established.
The ministry said it had not received notice of the program closing to new applicants.
The school has said it intends to restructure the institute, but has said nothing about closing, it added.
Executive Yuan spokesman Lo Ping-cheng (羅秉成) said there are already few graduate programs for gender studies in Taiwan.
If more programs close, there would not be enough high-level research in the field, he said, adding that they would need government support to endure challenges posed by the declining birthrate.
South Korean sociologist Shin Hei-soo, a member of the review panel, said yesterday that gender studies is a critical part of furthering societal change.
University departments can decide what to research, but they also need government support in order to offer a wider variety of courses, Shin said.
The student group raised two demands, starting with opposition to restructuring the program.
Gender studies touches on many fields, including sociology, political science, legal studies and humanities, the group said.
If it were absorbed into the College of Public Policy and Management or the College of Journalism and Communications, it would have a major effect on the institute's research and teaching direction, as well as the diversity of its coursework, it said.
The group reiterated the review panel's opinion that gender studies is an important part of higher education and societal liberalization.
The institute should not "become a sacrifice" of the declining birthrate, it said.
It called on the ministry to consider the panel's views and provide more resources to the institute and other programs to ensure they can weather future challenges.
Comments will be moderated. Keep comments relevant to the article. Remarks containing abusive and obscene language, personal attacks of any kind or promotion will be removed and the user banned. Final decision will be at the discretion of the Taipei Times.