New school COVID-19 guidelines released: MOE
Mask easing: Teachers are allowed to take their masks off while lecturing indoors, but students should keep theirs on, as COVID-19 measures ease this week
The Ministry of Education (MOE) yesterday released new on-campus COVID-19 prevention guidelines, stating that masks can be taken off while exercising, singing, dancing, performing, taking photographs, dining, drinking, video and voice recording, hosting events, presenting speeches and lecturing outdoors.
Large outdoor events organized by schools should comply with the mask regulations issued by the Central Epidemic Command Center (CECC), it added.
The new guidelines came into effect yesterday, and people in Taiwan are no longer required to wear masks outdoors for the first time since May 19 last year.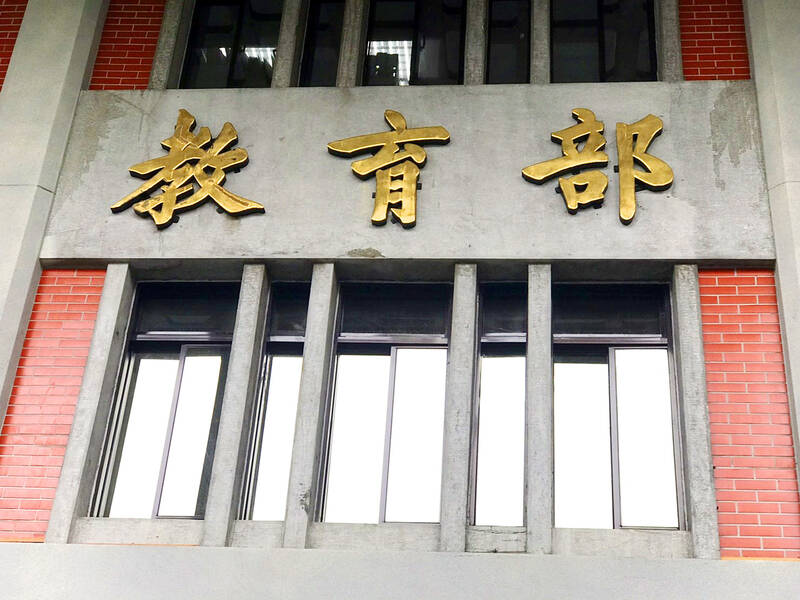 The entrance to the Ministry of Education in Taipei is pictured in an undated photograph.
Photo: Rachel Lin, Taipei Times
The CECC announced the easing of the mask mandate on Monday, adding that it was still considering whether to impose the requirement at large open-air gatherings, such as during New Year's Eve events when crowds gather closely.
According to the new MOE guidelines, teachers can take off masks while lecturing indoors, but students should keep their masks on.
Classrooms should be well ventilated and cleaned regularly, and equipment or tools used in class should be properly disinfected after use, the ministry said.
The guidelines stipulate that mouthpieces of wind instruments as well as microphones cannot be shared during classes.
Students should be divided into fixed groups while conducting experiments, and equipment should not be shared or should be disinfected before being handed over to others, the guidelines said.
Schools should follow the CECC's regulations when holding entrance exams and can adjust assessment methods if needed, it said.
While holding on-site written exams, schools can refer to the disease prevention measures taken during the General Scholastic Ability Test and the Advanced Subjects Test this year, the ministry said.
Health monitoring methods such as temperature measurements can be adjusted based on the venue and activities, it said.
If school staff develop a fever, acute respiratory infection, abnormal sense of smell and taste, diarrhea or other symptoms, they should not go to work or enter the campus, and should seek medical treatment immediately or rest at home, it added.
Schools can implement stricter disease prevention policies when needed, but must not use vaccination records or the results of polymerase chain reaction or rapid tests to determine enrollment eligibility of students, the guidelines said.
The ministry is to conduct random spot checks on schools' implementation of disease prevention policies, it added.
Taiwan yesterday reported 15,651 new COVID-19 infections, all except 56 of which were domestically transmitted, and 53 deaths from the disease, the CECC said.
The new cases represented a 4.4 percent drop from a week earlier, CECC data showed.
The deceased ranged in age from their 30s to their 90s. All but two had underlying health conditions, while 27 had not received any doses of a COVID-19 vaccine, the CECC said.
Additional reporting by CNA
Comments will be moderated. Keep comments relevant to the article. Remarks containing abusive and obscene language, personal attacks of any kind or promotion will be removed and the user banned. Final decision will be at the discretion of the Taipei Times.