Subsidies for monthly passes planned for fiscal 2024
Subsidies for monthly passes for public transportation would not be available until 2024, but the Ministry of Transportation and Communications would next year include NT$200 million (US$6.47 million) for such plans in its budget for fiscal 2024, Minister of Transportation and Communications Wang Kwo-tsai (王國材) told a meeting of the legislature's Transportation Committee yesterday.
Prior to the nine-in-one elections on Saturday, Democratic Progressive Party (DPP) Taipei mayoral candidate Chen Shih-chung (陳時中), New Taipei City mayoral candidate Lin Chia-lung (林佳龍), Keelung mayoral candidate Tsai Shih-ying (蔡適應) and Taoyuan mayoral candidate Cheng Yun-peng (鄭運鵬) said they would expand the monthly pass for Taipei and New Taipei City to also include Keelung and Taoyuan, and lower its price to NT$1,200 from NT$1,280 per month.
In addition to the MRT system serving metropolitan Taipei, public buses and YouBikes, monthly passes should also include unlimited travel on trains operated by the Taiwan Railways Administration and the Taoyuan Airport MRT, the four DPP candidates said.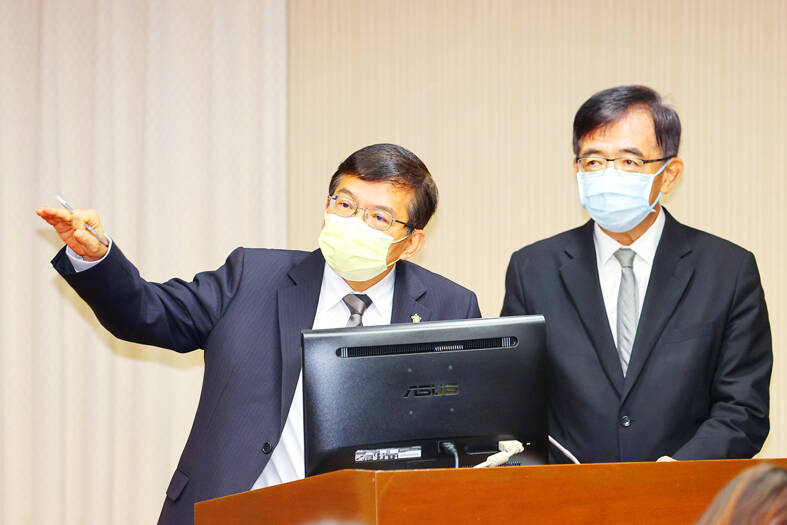 Minister of Transportation and Communications Wang Kwo-tsai, left, gestures while speaking at a news conference in Taipei yesterday.
Photo: CNA
Chinese Nationalist Party (KMT) Legislator Hung Meng-kai (洪孟楷) asked Wang if the monthly pass expansion would go ahead even though all four candidates lost in the elections.
"Our preliminary plan is that local government officials in northern, central and southern Taiwan propose ways to increase the use of public transportation systems, and the cost might not necessarily be capped at NT$1,200," Wang said.
"If we approve their proposals next year, we will spend about NT$200 million to help them integrate different systems. The funds for monthly pass plans across the country will be included in budget plans for fiscal 2024," he said.
Wang said that the ministry would recalculate the funds needed to subsidize commuters.
The four candidates had estimated that about NT$350 million would be needed to fund their monthly pass plan.
Separately, Wang told reporters that Taiwan Taoyuan International Airport's Terminal 1 would be used to accommodate low-cost carriers.
"We will speak with China Airlines, EVA Airways and Starlux Airlines about how Terminal 2 and Terminal 3 will be used. All of them will be treated fairly," he said on Tuesday.
The Civil Aeronautics Administration initially planned to divide the three terminals at Taiwan's largest airport based on the world's three aviation alliances, but the agency dropped the plan, saying it would cause uneven distribution of airlines.
The China Airlines Employees Union protested against the new plan, saying that there is a global trend to divide airports based on aviation alliance membership.
Comments will be moderated. Keep comments relevant to the article. Remarks containing abusive and obscene language, personal attacks of any kind or promotion will be removed and the user banned. Final decision will be at the discretion of the Taipei Times.