Government rules on overtime still lacking, group says
Work hour regulations at government agencies have not been updated three years after a Constitutional Court ruling suggested labor rules be revised, Working Hour Reform Alliance and New Power Party caucus whip Chiu Hsien-chih (邱顯智) said yesterday.
In 2019, the Constitutional Court, then known as the Council of Grand Justices, issued Constitutional Interpretation No. 785, which said there was a lack of regulations governing the working hours of civil servants who work under a shift system and a lack of reasonable compensation for overtime work.
The court suggested that each agency revise their regulations within three years, the deadline of which was yesterday.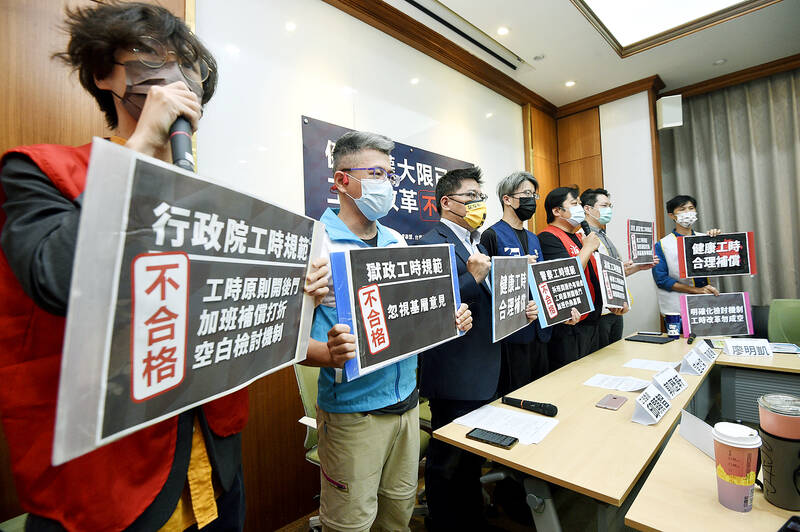 New Power Party Legislator Chiu Hsien-chih, third left, and labor rights representatives yesterday decry work hour regulations at government agencies at a news conference at the legislature in Taipei.
Photo: Lo Pei-te, Taipei Times
Chiu said the legal system failed to protect the physical and mental health of civil servants.
None of the working hour regulations were designed based on scientific and empirical methods of analyzing working conditions of civil servants, he said.
The Directorate-General of Personnel Administration and agency heads should "discard the old and outdated concept of 'special authority relationships' and respect the professionalism of civil servants," he said.
The alliance, established by the National Association for Firefighters' Rights, the Coalition of Taiwan Civil Service Reform Drivers and the Taiwan Corrections Union, said that agencies still give commendations as compensation for overtime work, a system it advocated against.
National Association for Firefighters' Rights director Sheng Shih-chieh (盛世傑) said that the Ministry of the Interior asked firefighters to work an extra 60 hours per month around the Lunar New Year holiday.
Firefighters already work about 160 hours of overtime a month, so with an additional 60 hours, overtime hours would surpass regular working hours, he said, adding that "one firefighter is being used as two."
Moreover, overtime pay for firefighters are capped at NT$17,000 per month, so they would not be paid for hours worked beyond that limit, he said.
Such policies are contrary to the intention of the 2019 ruling, he said.
Taiwan Police Union executive Kuo Li-hsuan (郭歷軒) said that the work hour regulations for police officers failed to solve the long-term problem of irregular shifts that are detrimental to the health of officers.
Although overtime hours are capped at 80 per month, they can be raised to 100 per month or a total of 240 hours in three months under "special circumstances," he said, adding that there is no clear definition of special circumstances or a compensatory mechanism.
Comments will be moderated. Keep comments relevant to the article. Remarks containing abusive and obscene language, personal attacks of any kind or promotion will be removed and the user banned. Final decision will be at the discretion of the Taipei Times.