Naval landing vessel sinks near Kinmen
A naval landing craft on Thursday sank near Kinmen County after wet weather and rough seas flooded its cabin, the Naval Fleet Command said.
The vessel, called Landing Craft Mechanized 1326, had completed transport and replenishment missions in the county and was returning to Taiwan proper when surging waves flooded the cabin, the navy said in a statement.
The craft's five crew members tried to bail out the water to no avail, the Navy said.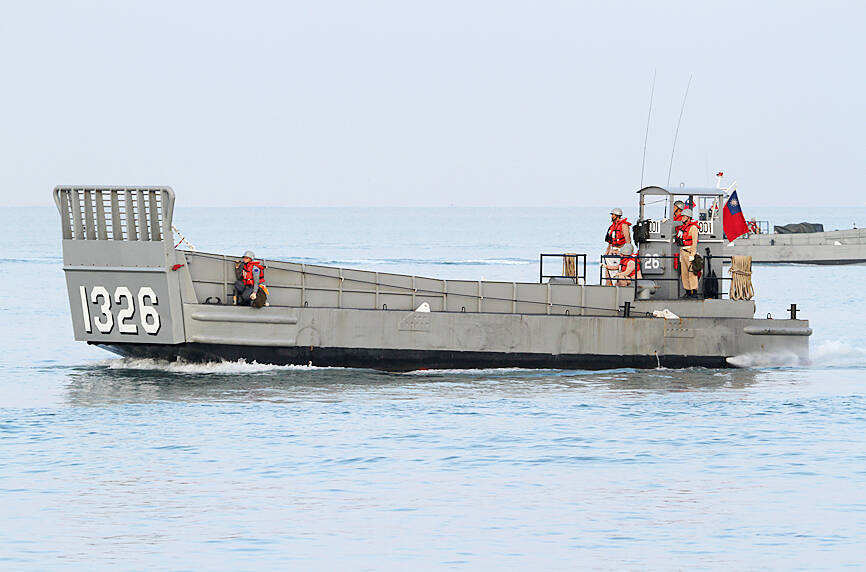 Naval Landing Craft Mechanized 1326 is pictured in an undated photograph.
Photo courtesy of the Republic of China Navy, via CNA
The landing craft eventually sank off Kinmen's Liaoluo Bay (料羅灣) at 5:18pm, although all crew members rescued, it said, adding that the precise cause of the sinking is being investigated by the Navy Command.
Presidential Office spokesman Xavier Chang (張淳涵) said on Thursday said that President Tsai Ing-wen (蔡英文) had been informed of the incident immediately after it occurred and called for the investigation.
Landing craft came to prominence during World War II, when they were used by amphibious forces to transport equipment and troops to shore.
During the 2020 Han Kuang military exercises, landing craft were given a multipurpose role that involved intercepting equipment at sea and deploying shallow-water mines.
Separately, an E-2K airborne early warning aircraft yesterday skidded off a runaway while landing at an airbase in Pingtung County, the Air Force Command Headquarters said in a statement, adding that no one was injured.
The incident occurred at 11:08am, when the plane belonging to the Pingtung airbase was returning from a training mission, the air force said.
The cause of the incident was not immediately known, and the case is being investigated, it said.
An unofficial source said that the plane landed on its belly due to malfunctioning landing gear.
The E-2 Hawkeye is an all-weather, carrier-capable tactical aircraft built by Northrop Grumman.
Comments will be moderated. Keep comments relevant to the article. Remarks containing abusive and obscene language, personal attacks of any kind or promotion will be removed and the user banned. Final decision will be at the discretion of the Taipei Times.