Central America coffee showcased at annual exhibition
Coffee beans from the Central American nations of Belize, Guatemala and Honduras were one of the highlights at the opening of the annual Taiwan International Coffee Show in Taipei yesterday.
Vice Minister of Foreign Affairs Alexander Yui (俞大?) and 2016 World Barista Championship in Dublin winner Berg Wu (吳則霖) were on hand to help representatives from the nation's three allies promote their products, preparing pour-over coffee for visitors to the Central America pavilion.
Yui and Wu were joined at the pavilion by Specialty Coffee Association chairman Juan Luis Barrios, who also made pour-over coffee for visitors, as well as Honduran Ambassador Harold Burgos, Belize Ambassador Candice Pitts, Guatemalan Ambassador Oscar Padilla Lam and Central America Economic and Trade Office (CATO) Director Liao Hung-ta (廖鴻達).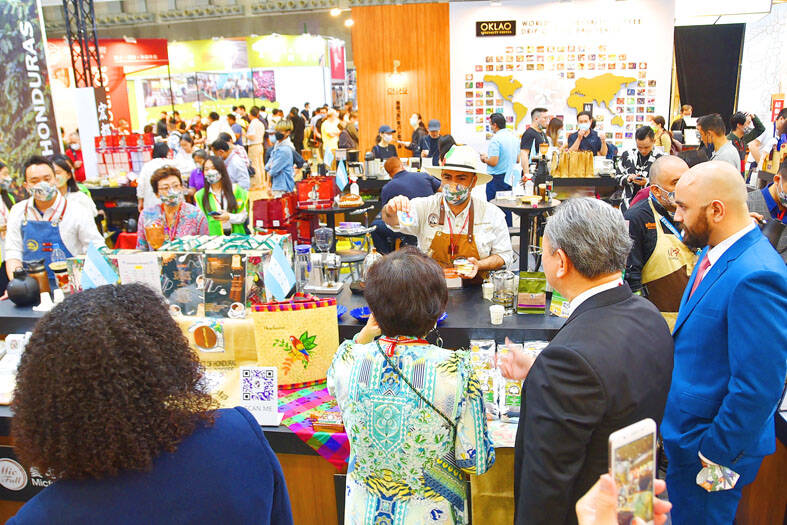 People visit the Central America pavilion at the Taiwan International Coffee Show at Taipei Nangang Exhibition Center yesterday.
Photo: Wu Po-hsuan, Taipei Times
The event started out with Wu first making coffee and interacting with the public, and answering questions about coffee making.
"There is really something different about the way a champion barista makes coffee," said Yu, who previously served as the director-general of the Department of Latin American and Caribbean Affairs.
Barrios said he was impressed by the way Taiwanese officials interact so closely with members of the public.
"I am very happy I was invited to attend the exhibition," he said.
Nearly 40 percent of Taiwanese drink more than one cup of coffee a day, CATO said, citing the results of a survey.
"Average annual coffee consumption per person in Taiwan is about 100 cups, with the coffee industry generating nearly NT$100 billion [US$3.21 billion] in revenue," it said. "Taiwan's Central American allies see great potential in the Taiwanese coffee market, which is why they were so excited to attend the exhibition this year."
Coffee and cocoa products are on show from nine Central American producers, with 12 Taiwanese importers promoting their products at the event, it said.
The exhibition, which runs until Monday, features more than 100 displays of local and international coffee brands and related products.
Comments will be moderated. Keep comments relevant to the article. Remarks containing abusive and obscene language, personal attacks of any kind or promotion will be removed and the user banned. Final decision will be at the discretion of the Taipei Times.