Taichung needs transport upgrades: DPP candidate
Taichung has great industrial output and contributes a lot to Taiwan's economic growth, but the city government's transportation policies are lacking, Deputy Legislative Speaker Tsai Chi-chang (蔡其昌), the Democratic Progressive Party's (DPP) mayoral candidate for the city, told the opening of the Taiwan International Tools and Hardware Expo yesterday.
Tsai addressed industry leaders and company executives at the launch of the three-day international event at the Taichung International Exhibition Center.
About 300 firms and vendors are exhibiting at expo, and more than 5,000 buyers and distributors from Taiwan and other countries attended the opening day, organizers said.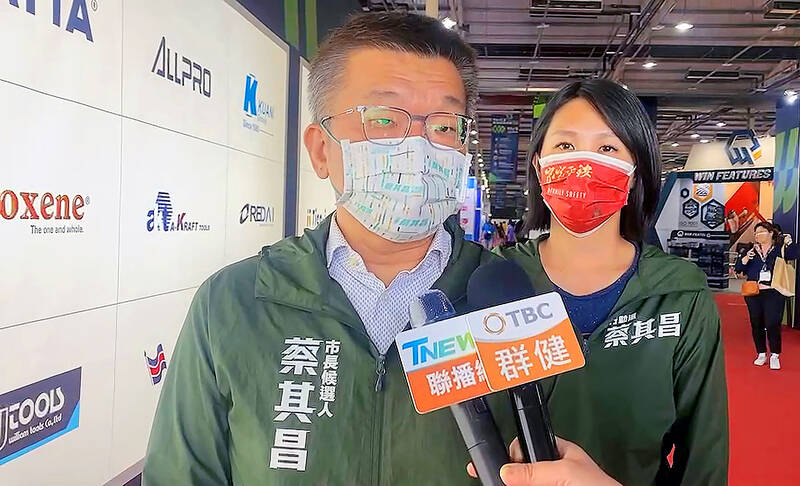 Democratic Progressive Party Taichung mayoral candidate Tsai Chi-chang, front, speaks to reporters at the Taiwan International Tools and Hardware Expo in the city yesterday.
Photo courtesy of Tsai Chi-chang's campaign office via CNA
Taichung and Changhua County are the main industrial clusters for tools, hardware accessories, metal processing machines and fasteners, while also supplying Taiwan's semiconductor industry, Tsai said.
"In central Taiwan, we have the most complete and robust supply chain for semiconductor manufacturers and other important industries... It is well-known that Taiwan Semiconductor Manufacturing Co, as the leading semiconductor company, forms a 'silicone shield' to protect Taiwan," he said.
"People should also know that Taiwan's robust supply chains for semiconductors, as well as metal tools and hardware, are closely linked to rest of the world. If an emergency situation or conflict breaks out around Taiwan, it would severely disrupt the global supply chain," he said.
"Therefore, besides sharing our values of democracy and freedom, Taiwan's strength in economic and industrial development binds it closely to the international community," Tsai said.
Taiwan is the third-largest exporter of hand tools in the world.
Exports of hardware and hand tools reached a record US$4.79 billion last year, up 27.4 percent from a year earlier, Ministry of Economic Affairs data showed.
In his role as Taichung mayoral candidate, Tsai said his platform includes expediting the acquisition of land for new industrial corridors and their construction.
He proposed the idea of "long-term lease only," as it would not include expensive sales to manufacturing companies wanting to set up in the city.
Tsai said his transportation policy includes pushing to complete the Taichung MRT rail routes and extensions, as it would spur the local economy, creating jobs and ensuring young people stay in the city.
He also advocated construction of an elevated track for the Taiwan Railways Administration's Coastal Line and completing its dual-track plan, as certain portions are still single track only, resulting in longer waits between trains.
Tsai said both plans had been approved by the Ministry of Transportation and Communications during the mayoral term of the DPP's Lin Chia-lung (林佳龍), but were held back by Taichung's current Chinese Nationalist Party (KMT) administration.
Taichung residents in the coastal districts have long waited for the Coastal Line railway plans to be completed, Tsai said, adding that it would stimulate the economy in those districts.
Taichung officials said in a statement on behalf of Taichung Mayor Lu Shiow-yen (盧秀燕) that they have held meetings on construction of the Coastal Line at local communities to gain feedback and suggestions over the past three years, and have requested funding approval, but are still waiting for the central government to give them the green light.
Comments will be moderated. Keep comments relevant to the article. Remarks containing abusive and obscene language, personal attacks of any kind or promotion will be removed and the user banned. Final decision will be at the discretion of the Taipei Times.