All adults to become eligible for bivalent jab
BA.5 WAVE AT PEAK? The numbers of daily cases are plateauing, but a renewed increase cannot be ruled out, the Central Epidemic Command Center said
People aged 18 to 49 are from Tuesday eligible to receive Moderna's bivalent COVID-19 vaccine, the Central Epidemic Command Center (CECC) said yesterday, as it reported 54,874 new local cases, the highest daily caseload since a wave of the Omicron BA.5 subvariant of SARS-CoV-2 began.
Booster doses of the Omicron-adapted vaccine should be administered at least 12 weeks after a previous COVID-19 vaccination, which includes the last dose of the primary series, the additional dose to the primary series for immunocompromised people or the first boster dose, Deputy Minister of Health and Welfare Victor Wang (王必勝) said.
The Advisory Committee on Immunization Practices unanimously decided to expand the vaccine's eligibility to younger people, as the BA.5 surge is plateauing, with infection rates among younger people higher than the average rate, Wang said.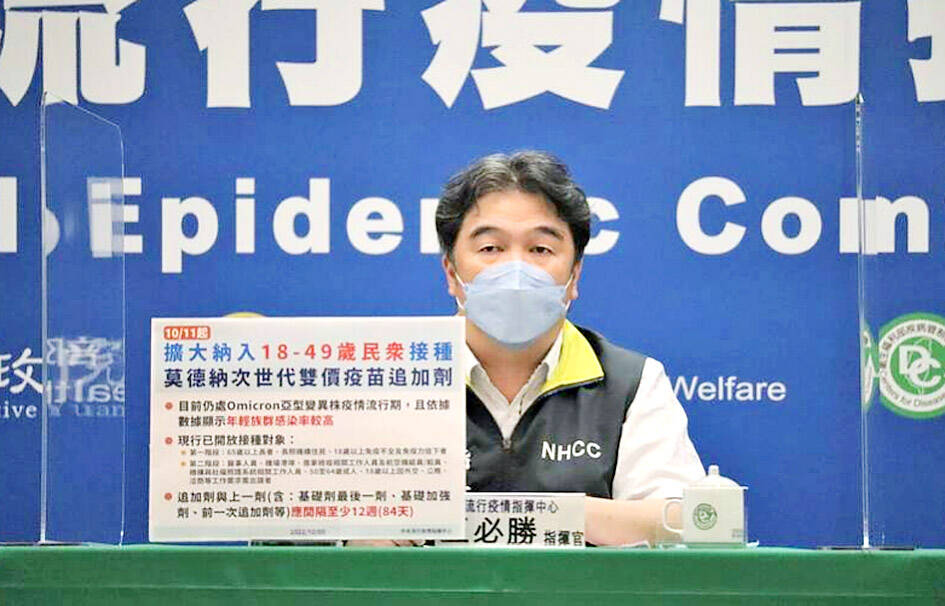 Deputy Minister of Health and Welfare Victor Wang, who heads the Central Epidemic Command Center, speaks at the center's news conference in Taipei yesterday.
Photo courtesy of the Central Epidemic Command Center
There are about 9.3 million people aged 18 to 49 in Taiwan, 1.5 million of whom recently had COVID-19, resulting in 6.8 million more people being eligible, Wang said.
Centers for Disease Control (CDC) Director-General Chou Jih-haw (周志浩) said 54,874 new local cases, 55 imported cases and 48 deaths were confirmed yesterday.
The local caseload was 13.3 percent higher than on Wednesday last week, he said.
It was the highest caseload in 106 days, since 56,339 local cases were reported on June 21, Wang said.
Fluctuations in the number of daily cases shows that the wave is plateauing, but a renewed increase cannot be ruled out, he said
CDC Deputy Director-General Philip Lo (羅一鈞) said 220 new moderate or severe cases were confirmed yesterday, including a premature newborn with severe symptoms, who tested positive one day after birth.
The boy was born on Wednesday last week, weighing less than 1.5kg, four days after his mother tested positive, he said.
He was admitted to an intensive care unit (ICU), where he was put on a ventilator after showing signs of respiratory distress, he said.
He tested negative on Tuesday, but remained in the ICU, Lo said.
Meanwhile, the CECC denied rumors circulating on social media, including one originating on US national television, that a fourth dose of a COVID-19 vaccine might "shut down" people's immune systems.
Another rumor is that the CECC no longer releases data on COVID-19 deaths "because of a high mortality rate among those who have received booster doses," Lo said.
That is false, Lo said, adding that 44 percent of people who died from the disease were not vaccinated and 66 percent had not received a booster dose.
Comments will be moderated. Keep comments relevant to the article. Remarks containing abusive and obscene language, personal attacks of any kind or promotion will be removed and the user banned. Final decision will be at the discretion of the Taipei Times.