Children nap times should be protected by law, bureau says
Children's nap times and active hours should be enshrined in law to protect their right to play, the Legislative Research Bureau has said.
Article 31 of the Convention on the Rights of the Child, which was adopted by the UN in 1989 and by Taiwan in 2014, protects children's right "to rest and leisure, to engage in play and recreational activities," the bureau said.
Regulations should be added to the Early Childhood Education and Care Act (幼兒教育及照顧法) regarding time children spend napping and on gross motor activities, it said.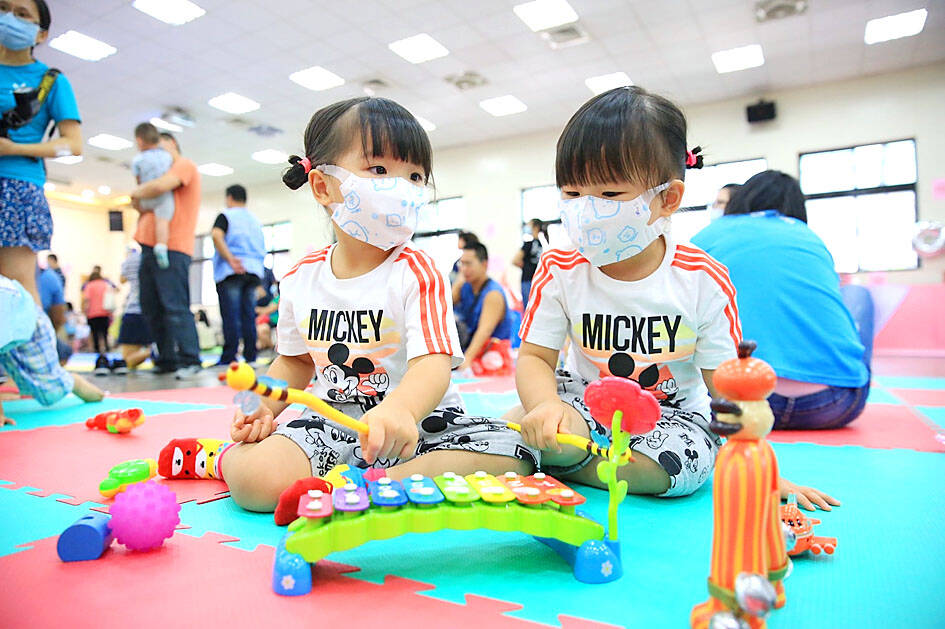 Children play with toys at a childcare center in New Taipei City on March 16.
Photo: Wong Yu-huang, Taipei Times
Similar regulations are stipulated in the Implementation Regulations Governing Early Childhood Educare and Childcare Services (幼兒教保及照顧服務實施準則), whose hierarchy is lower than the act, it said.
Japan in 2011 conducted a lifestyle survey on children across the country to improve their mental and physical health, the bureau said.
Based on the results, the Japanese government launched a campaign to encourage children to "eat more, move more, sleep more," it added.
Children with irregular sleep schedules also tend to have meals at irregular times, it said, adding that those who skip breakfast would be less active during the day and end up having insufficient exercise.
An irregular sleep schedule could also affect the autonomic nervous system, reducing its ability to protect the body which in turn could lead to hormone imbalance, it said.
Children with irregular sleep schedules might also experience discomfort and mental instability, it said, adding that they might also lose physical strength and have trouble focusing during class.
To protect children's right to participate in activities suitable for their age, "inclusive playgrounds" that are accessible to all children, including those with disabilities, must be built, it said.
Equipment in playgrounds should be safe, user-friendly and barrier-free for children of all ages and genders, as well as those with disabilities, it added.
Regulations should also be included in the Protection of Children and Youth Welfare and Rights Act (兒童及少年福利與權益保障法), it added.
The Ministry of Education had subsidized 519 public preschools and non-profit preschools to improve the environment and equipment in their playgrounds as of July.
Comments will be moderated. Keep comments relevant to the article. Remarks containing abusive and obscene language, personal attacks of any kind or promotion will be removed and the user banned. Final decision will be at the discretion of the Taipei Times.