China's claim 'illogical,' US expert says
HAWAII MODEL: While Hawaii held a referendum on becoming the 50th US state, Taiwan has never applied to join the People's Republic of China, Miles Yu said
China comparing Taiwanese independence to Hawaii seeking independence from the US is illogical, as Taiwan has never applied to be a part of the People's Republic of China (PRC), Hudson Institute senior fellow Miles Yu (余茂春) said over the weekend.
Chinese Minister of Foreign Affairs Wang Yi (王毅), who is in New York for the UN General Assembly, has given multiple talks asserting Chinese sovereignty over Taiwan.
In a speech to the Asia Society on Thursday, Wang likened Taiwan to Hawaii.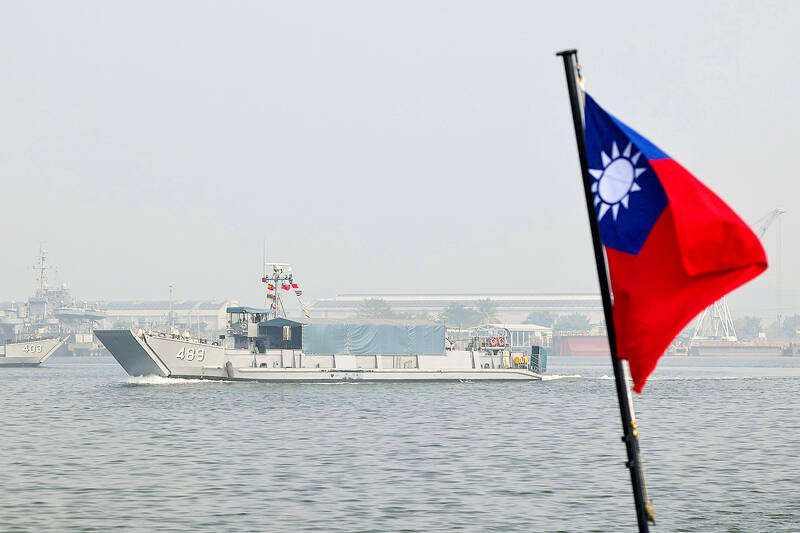 A Taiwan flag is seen during a Navy drill ahead of the Lunar New Year in Kaohsiung, Taiwan, January 27, 2021.
Photo: Reuters
"Just as the US would not allow Hawaii to break away," Beijing "reserves the right" to seek unification, Wang told the gathering.
The comparison "does not make sense," as the historical circumstances behind the two relationships are entirely different, Yu told the Chinese-language Voice of America in an interview published on Saturday.
Hawaii in 1959 became the 50th US state after a referendum in which its citizens voted to join the US, said Yu, who served as senior China policy and planning adviser to former US secretary of state Mike Pompeo.
On the other hand, "the Taiwanese people have never applied to become a part of the PRC, nor has the PRC administered or exercised sovereign control over any existing Taiwanese territories since its establishment in 1949," Yu said.
Beijing cannot merely claim sovereignty over Taiwan without also discussing the revulsion that the people of Taiwan have for its autocratic system, he said.
Taiwanese presidents from the Democratic Progressive Party and the Chinese Nationalist Party (KMT) have stressed that the fundamental obstacle to cross-strait communication is the two sides' inherently contradictory political systems, he said, adding that without resolving this issue, Beijing's claims are meaningless.
Yu also rejected Wang's appeal for the US to drop its attitude of "strategic competition" with China, and return to peaceful coexistence and mutual respect.
Washington has "suddenly realized that this is a big scam," as China has proven itself untrustworthy on a number of issues, Yu said.
It is "unrealistic" to blame all the negative developments in bilateral relations on the US, he added.
The past two US administrations have adopted a realistic view of China relations, meaning they recognized that mutual respect had no bearing on Chinese actions on certain issues, he said, citing persecution of the Uighur people, unfair trade practices, intellectual property theft and regional destabilization.
Wang's appeal for "peaceful coexistence" is also a lie because of Beijing's aggressive actions in the region, while "win-win cooperation" is impossible as China attempts to take advantage of the world, Yu said.
Comments will be moderated. Keep comments relevant to the article. Remarks containing abusive and obscene language, personal attacks of any kind or promotion will be removed and the user banned. Final decision will be at the discretion of the Taipei Times.