Chen Shih-chung backs ministry to push Medigen
RECOGNITION CRITICISM: Chiang Wan-an said people were worried Medigen jabs would not be recognized by other countries when Chen approved their purchase
The Ministry of Foreign Affairs would strive to get other governments to recognize the Taiwan-made Medigen COVID-19 vaccine, former minister of health and welfare Chen Shih-chung (陳時中) said yesterday.
Chen, who is the Democratic Progressive Party's candidate for Taipei mayor, made the comments after the Cabinet on Thursday approved a plan to next month reopen Taiwan's borders to all visitors and lift the quarantine mandate for arrivals, and the Japanese government on the same day announced that from Oct. 11 it would reopen to visa-free independent travelers and abolish its daily arrival cap.
However, international arrivals to Japan are required to have received at least one COVID-19 booster shot — or two or three doses from among six vaccine brands it recognizes — or submit a negative COVID-19 test result from a pre-departure test.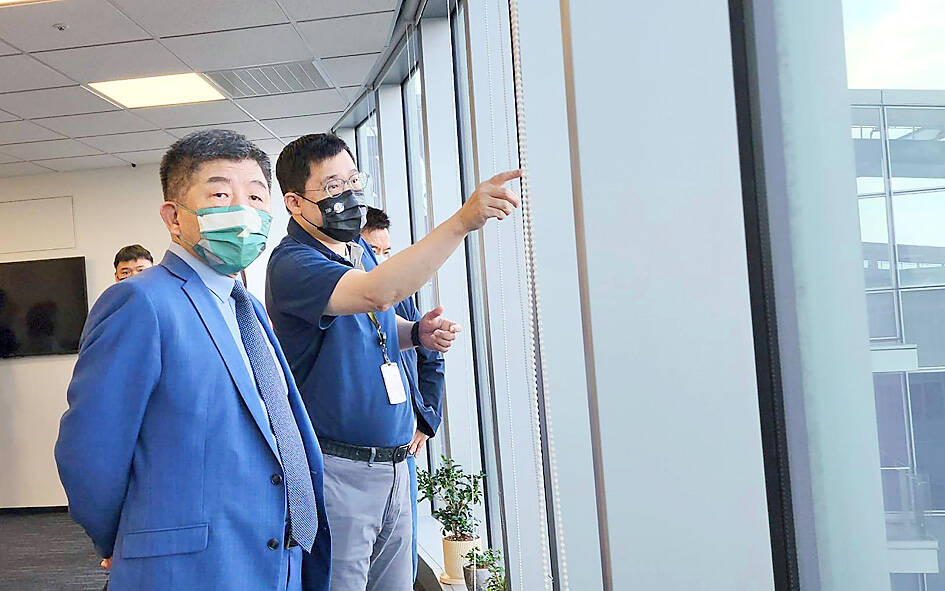 Former minister of health and welfare Chen Shih-chung, left, the Democratic Progressive Party's Taipei mayoral candidate, visits the office of Starlux Airlines in Taipei on Friday.
Photo: CNA
The comments by Chen, who headed the Central Epidemic Command Center before he resigned to focus on his mayoral bid, were criticized by his rivals in the race, who said he was encouraging people to get the Medigen COVID-19 vaccine, which is not recognized by the Japanese government.
Chinese Nationalist Party (KMT) Legislator Chiang Wan-an (蔣萬安), the KMT's Taipei mayoral candidate, said that when Chen as CECC head had insisted on purchasing Medigen vaccines, despite them costing more than other brands, people had expressed concern that it would not be recognized by other countries.
The Japanese government is "much more professional" in COVID-19 prevention than Chen, as it only allowed its people to receive vaccines that are widely recognized around the world, and also only allowed people who received such vaccines to be exempted from pre-arrival testing, Chiang said.
Former Taipei deputy mayor Vivian Huang (黃珊珊), an independent Taipei mayoral candidate, said that Chen should "at least say sorry" to those who believed the government and received a Medigen shot, because its vaccine has not been recognized globally.
Asked about the criticism, Chen said that public policy is made based on academic inference and legitimacy, but outcomes are sometimes unpredictable.
There are people who have conditions that make mRNA vaccines unsuitable, so the Medigen jab — a protein subunit vaccine — is recommended, he said.
Japan has always recognized only six COVID-19 vaccine brands, which do not include Russian or Chinese products, he said, adding that as borders reopen, global governments would reassess their standards.
The foreign ministry would also make every effort to push other nation's to recognize the Medigen vaccine, he said.
Comments will be moderated. Keep comments relevant to the article. Remarks containing abusive and obscene language, personal attacks of any kind or promotion will be removed and the user banned. Final decision will be at the discretion of the Taipei Times.