Inbound, outbound tour group ban to be lifted
BORDER OPENING: CECC head Victor Wang said he does not expect the move to significantly boost local cases, given the low number of imported cases recently
A ban on inbound and outbound tour groups would be lifted when border controls are eased next month, Minister of Transportation and Communications Wang Kwo-tsai (王國材) said yesterday.
With the planned lifting of the ban, travel agencies can start preparing for the resumption of group tours, Wang said when asked before a Legislative Yuan meeting about measures related to the cancelation of the mandatory quarantine for arriving visitors, dubbed the "0+7" policy.
The "0+7" policy is expected to begin on Oct. 13, and would replace a "3+4" policy under which all arrivals have to isolate for three days.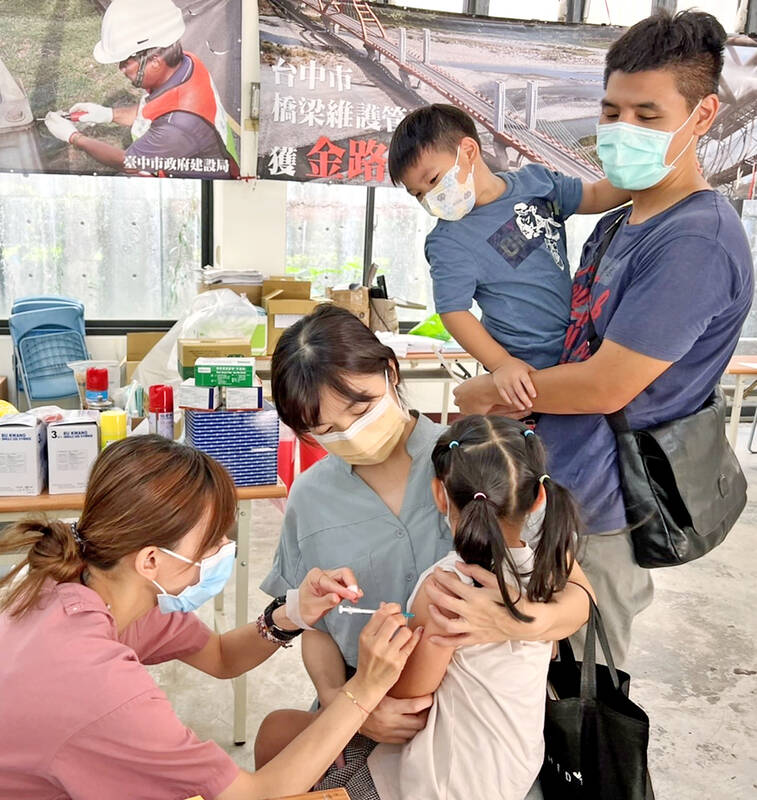 Parents bring their children to get vaccinated at Wen-Hsin Forest Park in Taichung yesterday.
Photo: Tsai Shu-yuan, Taipei Times
In anticipation of the lifting of border controls, the Ministry of Transportation and Communications has finalized instructions for inbound and outbound tour groups, and conducted trainings for concerned personnel, Wang said, without elaborating.
Taiwan has banned inbound and outbound tour groups since the early stages of the COVID-19 pandemic in 2020.
In a separate interview at the Legislative Yuan yesterday, Premier Su Tseng-chang (蘇貞昌) said Taiwan would lift border controls if there were no major changes to the COVID-19 situation over the next three weeks.
The Cabinet on Thursday announced border controls would be eased amid lower daily numbers of confirmed COVID-19 cases.
Meanwhile, Central Epidemic Command Center (CECC) head Victor Wang (王必勝) said that the number of confirmed COVID-19 cases yesterday dropped to 39,769, falling for four straight days compared with last week.
However, the rate of decline was small and further assessment is needed ahead of the planned lifting of border controls, he added.
Asked whether the CECC was worried that opening the nation's borders would introduce new COVID-19 variants, Wang said there are no new variants of SARS-CoV-2 at the moment.
The deputy minister of health and welfare said he believed that the relaxation would not have a significant impact on the local COVID-19 situation because recent numbers showed that cases contracted abroad accounted for only about 1 percent of the daily caseloads.
Wang also said that a gradual rather than a one-step approach would be adopted to lifting the mask mandate.
The CECC will continue to evaluate the pandemic and collect relevant information from other countries — such as South Korea and Singapore — for reference before making a final decision, he said.
With South Korea set to end its outdoor mask mandate on Monday, Wang said a good approach could be to implement different rules for mask wearing indoors and outdoors.
The CECC yesterday reported 41 deaths from the disease, bringing the total in Taiwan since the pandemic began to 10,743.
The deceased were people in their 20s to 90s, and all but three had underlying health issues, such as diabetes and cardiovascular diseases, the center said.
Fifteen of them had not been vaccinated against COVID-19, while two had received one dose of a COVID-19 vaccine, 15 had gotten two shots, 15 had received three doses, and two had had four shots, CECC data showed.
The center also reported 50 new cases classified as "severe" and 135 new cases classified as "moderate."
Among the severe cases were three boys, one with pneumonia and two with multisystem inflammatory syndrome in children, Centers for Disease Control Deputy Director-General Philip Lo (羅一鈞) said.
Comments will be moderated. Keep comments relevant to the article. Remarks containing abusive and obscene language, personal attacks of any kind or promotion will be removed and the user banned. Final decision will be at the discretion of the Taipei Times.