Survey warns of risk to hearing from headphones
'LISTEN WITH CARE': People in their 40s reported the riskiest headphone use, with prolonged exposure to high volumes potentially damaging hair cells in the ear
More than 75 percent of Taiwanese are at risk of hearing damage from improper use of headphones, a corporate survey showed yesterday.
In response to this year's WHO World Hearing Day slogan "To hear for life, listen with care," Merry Electronics commissioned CommonWealth Magazine to conduct a survey of hearing damage risk among Taiwanese, Merry Electronics president Allen Huang (黃朝豊) told a news conference in Taipei.
The magazine surveyed people aged 20 to 49 who have used headphones in the past three months.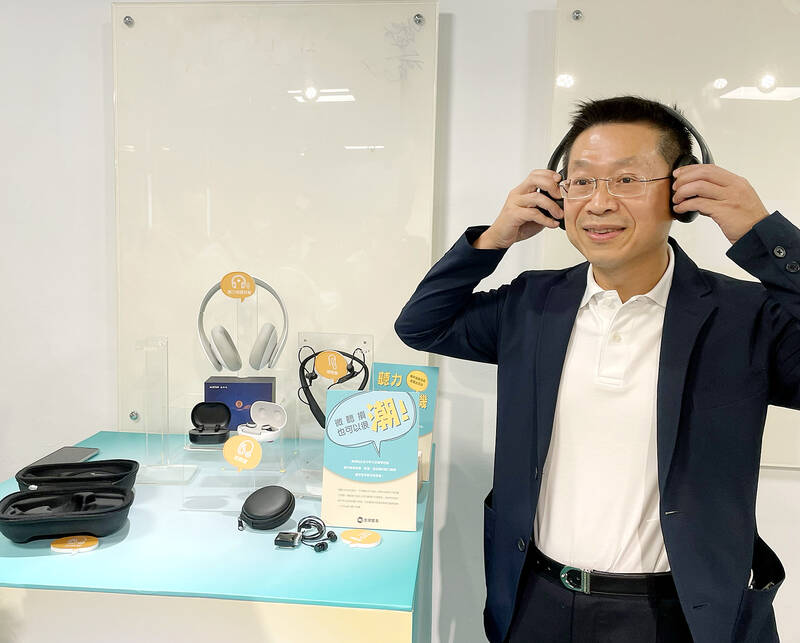 Merry Electronics president Allen Huang demonstrates headphone use at a news conference in Taipei yesterday.
Photo: Ou Yu-hsiang, Taipei Times
Of the 1,874 respondents, more than three-quarters reported hearing abnormalities within the past three months, Huang said.
Most also do little to protect their hearing, with no difference observed among age groups, he said.
People in their 20s reported the most headphone use, with 77 percent using them every day, the survey showed.
They were also more likely than other age groups to report mishearing, with 44.4 percent of respondents saying they had experienced that, it showed.
However, people in their 40s reported the riskiest headphone use, Huang said.
The survey defined "dangerous headphone use" as exposure at a volume of 60 percent or higher for more than an hour.
Men were more likely to report dangerous headphone use, the survey showed.
Audiologist Chen Hsueh-hsia (陳雪霞) said that prolonged exposure to high volumes can damage sensitive hair cells in the cochlear.
Once lost, hearing cannot return, so people should visit a specialist as soon as they notice a decline in their hearing, Chen said.
Those with minimal hearing loss are still able to hear and hold normal conversations, but might have trouble hearing in some environments, otolaryngologist Chang Hung (張弘) said.
Increasing numbers of young people have been visiting his clinic with hearing complaints, mostly complaining of ringing in the ears or feeling like their ears are overworked, Chang said.
Most cases are directly linked to prolonged exposure to high-decibel sound, he said, adding that people should get regular hearing checks.
To avoid hearing damage, Merry Electronics head of wellness Wu Meng-fan (吳夢璠) said that people should keep headphone volumes lower than 60 percent and use them for less than an hour at a time.
Just like nearsightedness, minimal hearing loss should be treated early to avoid further deterioration, Wu said.
Comments will be moderated. Keep comments relevant to the article. Remarks containing abusive and obscene language, personal attacks of any kind or promotion will be removed and the user banned. Final decision will be at the discretion of the Taipei Times.